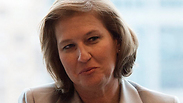 Justice Minister Tzipi Livni said Israel was burying its head in the sand in regards to the consequences of the dispute with the Palestinians.

"I want to talk about 'the bubble,'" she said. "Not the financial bubble and not the real estate bubble, but the bubble that we're living in. An entire country that is disconnected from the international reality."

Related stories:

In an address to Calcalist's 2014 Forecasts conference, Livni said that a country usually only finds out the cost of living in a bubble after it bursts, such as in the case of South Africa.

The minister said that despite being in financial conferences and poverty committees, those issues "have no significance if they ignore the conflict. The Palestinian conflict is the glass ceiling of Israel's economy."

She warned that the international financial and economic boycott started with the West Bank, but over time it will flow in to the rest of the country.

"It won't end there. The boycott is moving and advancing uniformly and exponentially," Livni said. "Those who don't want to see it, will end up feeling it."

The justice minister said the world doesn't understand Israel's policy of seemingly supporting a two-state solution while continuing to build in the West Bank.

"If there's no Palestinian partner, then we need to make an agreement with the world. The negotiations are not only with the Palestinians," Livni said.

"Or we could try ignoring the world, wrap ourselves in the justice of our cause, and support ridiculous and radical laws that damage the peace process and democracy."

Livni called Prime Minister Benjamin Netanyahu policies the "dark side of democracy."

"There is someone who is holding up construction bids in the country's periphery because he is not ready to differentiate between building in the settlements and building in Lod and Ashkelon," Livni said.

Livni concluded by saying that those declaring Israel needs to annex the West Bank are turning Israel into a lone settlement in the world.
Receive Ynetnews updates directly to your desktop