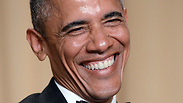 President Obama
Photo: EPA
US President Barack Obama poked fun at his rivalry with Prime Minister Benjamin Netanyahu on Saturday night at the annual White House Correspondents' Dinner.
"It is no wonder that that people keep pointing out how the presidency has aged me. I look so old John Boehner's already invited Benjamin Netanyahu to speak at my funeral," he quipped, referring to Boehner's controversial invitation to Netanyahu to speak in front of Congress on the Iranian nuclear program.
Obama at White House Correspondents' Association dinner (צילום: רויטרס)
He also addressed the claims he was Muslim, saying "being president is never easy. I still have to fix a broken immigration system, issue veto threats, negotiate with Iran. All while finding time to pray five times a day. Which is strenuous."
Obama's comedy routine also included a sly dig at Hillary Clinton, the current front-runner to be the Democratic candidate in the 2016 presidential election.
Noting that some Americans are living in a time of uncertainty, Obama said, "For example, I have one friend just a few weeks ago, she was making millions of dollars a year and she's now living out of a van in Iowa."
Clinton, who as a former secretary of state, former senator and former first lady is one of America's best known figures, traveled around in a van this month in a deliberately low-key trip to the state that holds an early contest in the election primary season.
On a serious note, Obama noted there were journalists around the world who were unjustly imprisoned, and cited the case of Jason Rezaian of the Washington Post, an American-Iranian who is in prison in Iran.
"For nine months, Jason has been imprisoned in Tehran for nothing more than writing about the hopes and the fears of the Iranian people," Obama said, adding that he had told Rezaian's brother Ali that he would not rest "until we bring him home to his family safe and sound."
Obama's stand-up comedy performance Saturday night raised money for scholarships for young journalists.
The dinner, a long-running tradition organized by the White House Correspondents' Association, has morphed from being a relatively low-key gathering of journalists and their sources from around town. In recent years, media organizations have invited not just sources but Hollywood stars and sports celebrities.
The night's mix of Washington journalists and Hollywood stars featured Oscar-winner Jane Fonda, reality TV star Donald Trump and actresses Kerry Washington and Tea Leoni.
Washington has a love-hate relationship with its annual spring party. Those who go tend to enjoy having dinner with the president, albeit along with more than 2,600 others, seeing sources in a semi-casual setting and mingling with celebrities.
But the dinner also draws an annual chorus of condemnation from critics who say that laughing and partying with sources is not conducive to hard-hitting journalism.
The dinner is actually a weekend of events - various media organizations host pre- and post-dinner parties that give the affair an echo of Hollywood at Oscar time.
When he finally took the stage, Obama joked it was the night when "Washington celebrates itself. Somebody's got to do it."
Most of the prospective and declared Republican candidates for president in 2016 stayed away.
Reuters and the Associated Press contributed to this report.