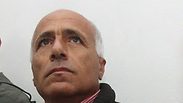 Mordechai Vanunu
Photo: Gil Yohanan
Nuclear whistleblower Mordechai Vanunu was arrested on Thursday morning, likely due to the interview he gave Channel 2 last Friday. He will be brought in front of a judge later on Thursday.
He was arrested by the Central Unit of the Jerusalem Police, in coordination with the Shin Bet, under whose strict surveillance he has been his release from prison in 2004.
As part of the conditions of his parole, he was not allowed to leave Israel for a year, required to report his movements, barred from coming near the Palestinian Authority, and more.
Adv. Yemima Abramovich, Vanunu's defense attorney, said that the interview was not a breach of his parole.
"He is allowed to talk to Israeli journalists," she said. "The interview was approved by the military censor."
"I've been Mordechai Vanunu's lawyer for many years," she added. "He is out of prison, but isn't really free. It's impossible for him to live a normal life."
Vanunu denounced Shin Bet and Mossad for exacting personal revenge at him.
"Whatever I do, I get arrested," he said. "Mordechai Vanunu is a victim of ongoing harassment."
A former employee at the Dimona reactor, Vanunu was arrested in Rome by the Mossad in September of 1986, after leaking information about Israel's nuclear program to the British Sunday Times, as well as photographs he took after his dismissal from his job, several months prior.
While he was in London, he was seduced by a Mossad agent (nicknamed "Cindy"), who convinced him to go to Rome, where he was arrested by Israeli agents and secretly transported to Israel.
Vanunu served an 18-year prison sentenced and was released on April 21, 2004.
After his 18-year prison sentence came to an end, he was released on draconian parole. Over the years, he has filed a series of requests to leave Israel, give interviews, relinquish his Israeli citizenship, and more. They were all denied.
In 2010, he was imprisoned for three months after being convicted in 2007 of contacting foreign agents.