Eilat greeted gay community with open arms
Photo: Meir Ochayon
EILAT - Some 1,000 people participated Friday in the Gay Pride Parade in Eilat only a few days after the cancellation of the International Gay Pride Parade, which was scheduled to take place in Jerusalem.

The colorful event was part of the Gay Pride Festival, which is being held for the fourth consecutive year.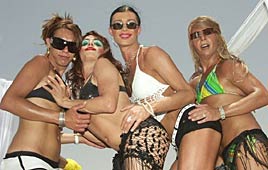 Dancers and drag queens in lavish costumes and multi-colored decorations added to the event's festive quality.

The Eilat municipality assisted the event's coordinators, as gay pride flags dangled from lampposts throughout the city.

The festival commenced with a Eurovision Song Contest party that was held at the Yacht Bar on the King Solomon Hotel promenade, complete with performances by the country's leading drag entertainers.

"This is the first time I am participating in the Eilat Gay Pride Parade, and the atmosphere is heating up," 27-year-old Hadas Schwartz of Tel Aviv said. "There is a lot of happiness in the air, I don't want it to end."

The Festival's producer, Shachar Elkayam, said "Eilat has proven once again it is the leading tourist city in the country in terms of the openness of its residents, who have greeted the homo-lesbian community with warmth and love."

Saturday the Royal Beach Hotel is set to host a party that will conclude the festival's events; party organizers said that during the celebration the Eurovision final would be aired on giant screens.