Violence flares on Egypt-Gaza border
Photo: Tzafrir Avyoav

The injured were evacuated to a Beer Sheva hospital
Photo: Meir Azoulai
GAZA – An Israeli soldier and a Palestinian terrorist were killed in the Gaza Strip on Sunday as troops and gunmen exchanged fire in the latest flare-up of violence since leaders declared a cease-fire in February.
The slain IDF soldier was identified as Avi Karouchi, 26, of Beer Sheva.
IDF troops killed a terrorist after Karouchi, another soldier and a civilian were injured by anti-tank missiles gunmen had fired at IDF troops operating along the Philadelphi Route, near the Egyptian border. Karouchi later died of his wounds, the army said.

The attacks occurred hours after U.S. Secretary of State Condoleezza Rice met Prime Minister Ariel Sharon and other Israeli leaders in Jerusalem to discuss coordination of Israel's Gaza pullout plan with the Palestinians.

Islamic Jihad and an offshoot group from Palestinian leader Mahmoud Abbas's Fatah faction claimed responsibility for the missile attacks on the Israeli-controlled buffer zone on the Egypt-Gaza border.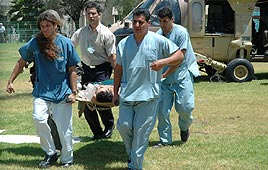 Violence has flared in recent weeks despite a cease-fire Sharon and Abbas declared in February, which terrorist groups accepted in March.
Earlier in the day, terrorists launched a missile and fired gunshots at IDF troops near Jewish settlements in Gaza, causing no injuries or damage.
Terrorists bombarded settlements and other Israeli targets with mortar bombs and rockets on Monday in what they said was retaliation for Israel's killing of a terrorist in the West Bank.

Threat to break truce

Armed groups have threatened in recent days to break their truce, saying Israel violates it by targeting terrorists and does not fulfill its demands to release more Palestinian prisoners and lift restrictions in the West Bank and Gaza.

Abbas told Rice on Monday at a press conference in the West Bank town of Ramallah that the armed groups were ready to maintain calm. Israel and the United States have long demanded the Palestinian leader rein in terrorists and dismantle their groups, while he had preferred to negotiate with them.

Israel is concerned terrorists, who wish to claim the Gaza pullout as a victory, may try to attack Israeli targets while Israel evacuates from all 21 settlements in the Gaza Strip and four of 120 in the West Bank in August.


It says it will not allow the withdrawal to commence under fire and has demanded Abbas deploy security forces in Palestinian areas in Gaza during the pullout to apprehend terrorists.


'Active process'

Rice said successful implementation of the withdrawal will enhance Israeli security and build trust in the Palestinians.

She called on both sides on Saturday to increase cooperation efforts and turn words into action, saying: "There is no more time to simply put problems on the agenda. This now has to be an active process of resolving these (problems)."

Sharon said a coordination pullout would allow a return to a U.S.-backed "road map" peace plan, currently stalled by violence, if the Palestinians stop terror.