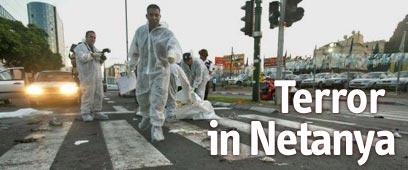 Rescue workers at the scene
Photo: Channel 1

Political fallout of bombing
Photo: Channel One

Mofaz cancels meeting with PA Minister Dahlan and U.S. General Wood
Photo: Gil Yochanan

Katz says disengagement illusion over
Photo: Alex Kolomoisky
JERUSALEM – Israel will respond to Tuesday evening's terror attack in Netanya with a "firm hand," sources at the Prime Minister's Office say.

The suicide bombing, which followed months of relative quiet, ended a period of guarded optimism over the prospect of coordinating the disengagement plan with the Palestinian Authority.

Terror Attack

By Raanan Ben-Zur and Avi Cohen

Following long period of relative quiet, suicide bomber strikes outside Hasharon Mall in Netanya, North of Tel Aviv, killing at least three people and wounding scores. Islamic Jihad claims responsibility for terror attack

On Tuesday evening, Defense Minister Shaul Mofaz was supposed to meet with PA Civilian Affairs Minister Mohammed Dahlan. However, due to the bombing, Israel decided that there was no reason for the meeting, and it was cancelled.

The attack was apparently carried out by the Palestinian Islamic Jihad, which never committed itself to the tahadia, or "cooling off period," with Israel. In Jerusalem, some are connecting the attack to the upcoming disengagement from Gaza.

"The illusion that the disengagement plan will stop terror disintergrated in Netanya," Agriculture Minister Yisrael Katz said.

He called upon the government to carry out targeted killings of terrorists and to launch military assaults against their infrastructure.

Foreign minister talks to EU, Peres

Foreign Minister Silvan Shalom called for "applying pressure on the Palestinian Authority to do what it is supposed to do and fight terrorism."

In a telephone conversation with the European Union's Foreign Policy Chief Javier Solana, who called to express his condolences, Shalom said, "It's wrong for Europe to meet with Hamas or any other terrorist organization. Such meetings hurt the War on Terror."

Earlier in the evening, during a cabinet meeting dealing with disengagement, Shalom raised the issue of Hamas taking part in PA elections and said that it had to be prevented.

He also protested European officials meeting with the Islamist terror organization.

Shalom told Labor Party Chairman and Vice Premier Shimon Peres, "You asked in Oslo that the PA eliminate the Palestinian charter that calls for the destruction of Israel, and you agreed that those who use violence cannot participate in the elections.

"Just a few days ago, Mahmoud al-Zahar said that Israel needs to disappear from the world. The world is starting to talk with them, Europe is talking with them. We cannot let them act as if nothing happened because sooner or later they'll turn into the master of the house."

Interior Minister Ofir Pines-Paz declared the bombing to be "a serious terrorist attack, for which the Palestinian Authority is responsible. Still, it's clear that the event was meant to torpedo diplomatic advances and to carry out disengagement and our responses cannot play into the hands of the terrorists."

Pines said the Islamic Jihad should be dismantled by a joint Israeli-PA effort.