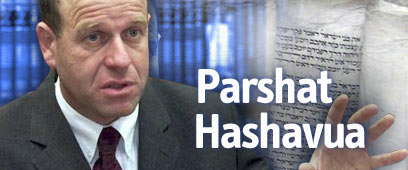 Torah Portion
Photo: Moshe Milner, GPO
"'Pinchas, the son of Eleazar, the son of Aaron the priest, has turned My wrath away from the children of Israel, because he was very jealous for My sake among them, so I did not destroy the children of Israel in My jealousy." (Numbers 25:11)

Aaron, the high priest and brother of Moses, was very active in the Israeli zealous schools of thought. Upon seeing the head of the tribe of Simon having sex with a Midianite woman in public, he could not contain his emotions and killed both of them in front of all the people of Israel; a targeted killing with one thrust of a spear that immediately calmed the Lord down.

But God's reward to Pinchas is amazing in its cunningness: Instead of supporting him and his zealousness, instead of encouraging him to continue with his lethal ways "for the sake of heaven," God offers him the exact opposite:

"Therefore, say: Behold, I give unto him My covenant of peace." (Numbers 25:12)

Metamorphosis

It was at this moment that the metamorphosis of the tribe of Levi was completed. The father of the tribe, Levi Ben-Yaakov, was one of the bible's most notorious hooligans.

He took part in the massacre carried out by Jews in Nablus to avenge the rape of his sister Dina, was instrumental in the sale of Joseph and was justifiably cursed by his father Yaakov, who was on his deathbed: "Cursed be their anger," said Jacob, "for it was fierce, and their wrath, for it was cruel" (Gen. 49:7).

Levi's descendants followed in his footsteps for many years thereafter, becoming Moses' disciplined assassins, and eventually massacring all those who committed the sin of the golden calf and rebelled against Moses and his God.

Like father, like son

And here, once again, a member of the tribe follows in his ancestors' path – murders and destroys in public, without shame; and God decides to put an end to it.

The zealous killer's prize is to be a champion of peace, reconciliation and compassion. From this day forward Aaron and his dynasty become peace-lovers, despite, or perhaps because of, the family's problematic genetics.

God understands the only way to restrain the violent Pinchas is to burden him with a task that is in total contradiction to his character and one that he must carry out.

The fanatic becomes a peace activist, not just Peace Now, but an eternity of being the high priest of peace.

From fundamentalist to man of peace

The expeditious and surprising turn of the zealous act and the lord's response to it, was an invitation for creativity and interpretation for many generations of scholars.

Pinchas' zealousness was similar to that of Elijah, who slaughtered and annihilated the 450 priests of Baal, so much so that the midrash (talmudic literature containing legends based on biblical verses and a collection Jewish laws with homiletic interpretations) determines that both fanatics, who pride themselves on being "jealous for God" are actually the same person reincarnated.

Like Pinchas, Elijah, goes from being a fundamentalist, zealous and relentless prophet to an advanced man of peace who would restore the hearts of fathers to their sons and the hearts of the sons to their fathers.

Scholars throughout the generations felt somewhat uncomfortable with the zealous man and his image. Several schools of thought understood the fine and dangerous line between zealousness and violence, between pretending to sacrifice for the lord and the settling of scores by the fanatic with people he hates or is angered with – and all under the guise of faith and fear of the lord.

My altar or yours?

In the book of Kings, when Elijah, or Pinchas stands before the Lord and claims to have fought His war, only to have the people destroy God's altar, God asks him a stinging question: "my altar, or yours?"

In other words: Are you, Elijah, not making use of me, God, for your political purposes against Ahab, and the Baal priests?

This is the essence of the Jewish zealousness. If one truly devotes himself to God, he will eventually be a man of peace.

Or, to be more precise, apparently only he who is capable of becoming a man of peace is permitted to start out as a fanatic.

But those who are violent fanatics at their core and do not possess the capability to change, will never receive the lord's blessing of peace

At the end of the day, Elijah was forced to flee the Jewish king of his day, Ahav.

From the time Jacob curse his son until today we have been able to differentiate between men of peace and Hamas. Between those who possess a deep faith in God and those lunatics who are interested only in themselves, who cynically use God, faith, Torah and peace for their own agendas.