Itzhaky leaves his compound
Photo: Hanan Greenberg

Holed up on the roof
Photo: Aya Ben Amos

Barricaded in Shirat Hayam
Photo: Ahiya Raved
VIDEO: Security forces stormed the Gush Katif settlement of Kfar Yam Thursday afternoon, where anti-pullout leader and head of the "Jewish Autonomy" Arieh Itzhaky had barricaded himself and dozens of youngsters on his rooftop.
Police and IDF troops forcefully evacuated the settlers from Itzhaky's compound, after he handed IDF officers a bag with weapons and ammunition belonging to his group.
Radical right-wing activist Nadya Matar and Itzhaky's wife Datya initially refused to evacuate and lay on the ground holding their infants.
By 7 p.m. forces had completely evacuated Itzhaky's rooftop without any violence and moved on to vacate additional homes.
Police and IDF troops stormed the house close to 6 p.m. The youngsters barricaded in the house threw bags of paint and whitewash at the forces, despite an earlier agreement between army officials and Itzhaky whereby no arrests would be made should the settlers refrain from assaulting the forces.
Taking over Shirat Hayam (Video: Channel 2)
Some 40 youngsters were holed up on the rooftop prior to the evacuation and Itzhaky called out to the forces not to enter his compound.
"You are acting against Jewish children, you have to stop this," he shouted. "I did not expect this behavior, I specifically asked for specially trained soldiers to come here, not inhumane special police forces."
However, despite Itzhaky's demands, forces stormed his rooftop barricade and began arresting settlers.
Armed resistance
Earlier, the army deployed snipers after Yitzhaki said he would fire at troops.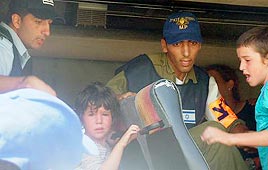 The many youngsters in the area, led by Yitzhaki, said they would not surrender without a fight and declared the establishment of a "Jewish autonomy."
Yitzhaki himself threatened soldiers, while holding on to his rifle: "We have weapons. If you storm in here, there will be bloodshed." His wife, Datia said: "We'll do everything to protect ourselves."
Yitzhaki later told Ynet he did not threaten to shoot anyone.
Leaving Shirat Hayam (Photo: Aya Ben Amos)

"I merely got up on the roof because security forces are threatening to evacuate us and are encircling the community," he said."My weapon is meant for self-defense and will not be used, unless they aim weapons at us."

Yitzhaki also said he had booby-trapped the area and demanded to speak to a senior army officer, "not some pathetic major like they sent." He also claimed his comrades had enough supplies for days, months "and even half a year."

Still, the IDF decided not to take any chances and deployed snipers in the area.

'Four armed people on the roof'

About 40 people were barricaded in the same compound with Yitzhaki, including two babies. According to Police Chief Moshe Karadi, who arrived in the area, said the standoff was "an exceptional incident" with at least four armed people on the roof.

However, it appears many in the community realized the end was near, with youngsters crying in each other's arms.

Earlier, the youngsters placed obstacles made of flammable materials while some barricaded themselves in a synagogue and other public buildings. Tires and garbage dumpsters were torched, with heavy thick smoke rising above.

IDF bulldozers were sent in to put out the fires, which have spread to nearby Palestinian areas.

In nearby Shirat Hayam security forces evacuated people who had barricaded themselves on a deserted rooftop with the use of a construction crane. Among those barricaded was far-right activist Noam Federman, who was supposed to under house arrest in Hebron.

Federman urged the teens who had joined him on the roof not to resort to violence, and officers lowered the teens one by one.

Prior to the evacuaiton several teens handcuffed themselves to one another and lit fires on the roof.

Forces evacuated additional people who had barricaded themselves on local rooftops and in synagogues.

Some 50 locals and infiltrators barricaded themselves in the settlement's synagogue; they too were eventually cleared from the area.

Rabbi Yaakov Meidan, who was also barricaded in the synagogue, said prior to the entrance of the security forces, "This place was built by Jews, we are praying and studying Torah and we will not leave until they drag us out."

Earlier security forces evacuated families who had infiltrated the settlement prior to the pullout and deactivated the settlement's speaker system, as some settlers were using it to call on soldiers and police officers to refuse orders.

Reporting from the field:

Ronny Sofer, Kfar Yam

Aya Ben-Amos, Shirat HaYam

Ahiya Raved, Kfar Yam

Attila Somfalvi, Shirat Hayam