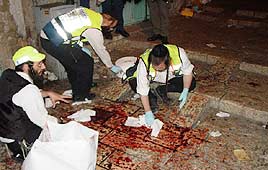 Scene of the crime
Photo: Zaka
Jerusalem's Mir Yeshiva was stunned last night following Wednesday night's double stabbing in which 21-year-old Shmuel Matt was murdered and another student was seriously wounded.
Terror returns
Ultra-Orthodox youngster tells police he was stabbed by Palestinian; forces dispatched to scene find another religious youngster, tourist from Britain, in critical condition. Man later dies of wounds
"He got engaged just a few months ago, and was planning to get married in three months," said Rabbi Binyamin Carlebach, one of the victim's teachers.
Some 100 yeshiva students flocked to the Hadassah University Hospital at Ein Kerem as word of the stabbing spread, faces ashen and full of grief.
Rabbi Carlebach praised Matt, saying he regularly awoke at 4 a.m. to study, and mourned the loss of a dedicated student.
"He'd only been in Israel about a year-and-a-half," he said. "His whole family is in England. But when they arrive, he will be buried, right here in Jerusalem."
The friend was also stabbed, but managed to take himself to a nearby police station to report the incident. But by the time he got back to the scene of the crime, his friend had also been stabbed, this time fatally.
Hospital incident
But the evening's tragedy was not over: Police were called to the scene when the victim's sister and friends asked hospital officials not to give the body to the Abu Kabir Forensic Institute, and hundreds of yeshiva students blocked the hospital entrance to prevent the body's transfer.
"Despite the deep and complex emotions involved, the police are not prepared to even negotiate with our family," said Matt's sister.
"Everyone knows Abu Kabir has got a terrible name, and rightly so. No religious person wants a loved one to go there, but the police have not budged, and won't even consider our request to leave my brother's body here until morning, when the Supreme Court can consider the issue.
"This has not helped our family at this difficult time," she said.
No way to help
Moshe Simon, a paramedic from the Hatzolah organization in the Old City, was the first to respond to the attack.
He was already dead when I got there," he said, "no pulse or breathing. We tried to revive him, but there was no response. There was nothing we could do."
The second stabbing victim, a native of New York who also studies at the Mir Yeshiva, remained hospitalized Thursday in good condition at Shaarei Zedek Medical Center in Jerusalem.
"He's also getting married in a couple of months," said a family friend.