Michael Jackson is free and happy, thanks for asking. Photographs of the mega pop star have been released for the first time since he was acquitted of child molestation charges in June.

Jackson is seen smiling while on holiday in Dubai, and is seen in the company of rally champion Muhammad Bin Sulayim, and the son of the king of Bahrain.

The BBC, which has covered the photo releases, said that Jackson, who celebrated his 47th birthday this week, looked healthy and joyful, compared to his last public appearance, where he looked pale and weak.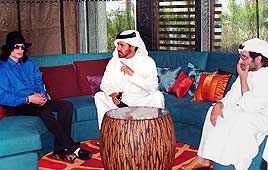 Jackson left the United States immediately after his trial and flew to the Middle East on a visit to Bahrain. On August 20, he arrived in Dubai, where according to rumors he is looking into buying property. Other reports claim that Jackson has already purchased a home in Bahrain.
"Jackson is having a great time here, and he has been impressed with what he found here in Dubai," Sulayim told a local newspaper.
Jackson was acquitted of charges of child molestation and plying minors with alcohol in June. Many of his fans around the world waited anxiously for the not guilty verdict which arrived on June 14.