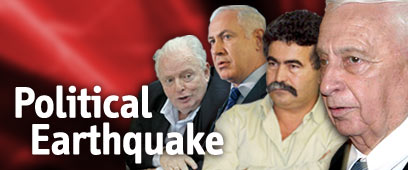 55 percent back Sharon's move
Photo: AP

Livnat: Just a political aftershock
Photo: BauBau

Mofaz: Israel has chosen Likud
Photo: Gil Yohanan

Likud: Only 12 seats
Photo: AP
Is the Likud on the way to collapse? Prime Minister Ariel Sharon's new party would score an impressive victory were elections held today, with the Likud suffering a devastating blow and losing more than two thirds of its Knesset seats, a survey commissioned by Israel's leading newspaper Yedioth Ahronoth shows.

According to the poll, the new Sharon-led party would win 33 Knesset seats, with the Labor party close behind with 26. The Likud, meanwhile, would see a huge drop in its power, winning only 12 seats compared to its current 40.

Sharon has so far been successful in persuading 13 Likud ministers and Knesset members to join his new coalition Kadima (Forward), and rumors are that few politicians from other factions are also leaning to follow 'the bulldozer.'

In yet another sign that Sharon's decision to leave Likud will reshape Israel's political landscape, Yosef (Tommy) Lapid's secular Shinui party will see its weight in parliament drop by 8 seats, from 14 to 6.

Livnat: Survey result of 'political aftershock'

The Likud party will strengthen before elections, Education Minister Limor Livnat said Tuesday, claiming that a recent survey published does not reflect Israel's true political reality.

"The surveys are the result of a (political) aftershock," she said, referring to the opinion poll.

"I believe we'll receive no less than the number of seats we received in the past," she said. "I'm sure the Likud will strengthen. A new chairman will be elected, we'll unite behind him."

In response to the possibility that several Likud ministers may resign, leaving the government with only four, Livnat said, "We are still investigating the issue. We will not necessarily quit. Perhaps other ministers who have left the Likud need to resign."

Defense Minister Shaul Mofaz, who announced his candidacy for party leadership Monday, told Ynet that "excitement over Sharon's party will wane within one-two weeks and then Israel will be faced with the Likud up against the Labor party."

He said his party needs a contender with security experience and social sensitivity as an answer to Amir Peretz.

"Israel elected the Likud government and so the problem should be those leaving and not those staying," he said, in response to the issue of whether the Likud ministers may resign. "National responsibility obliges ministers to remain in their positions."

Aides to Foreign Minister Silvan Shalom, who intends to run in upcoming primaries, remained silent following the daunting picture drawn by Tuesday's polls.

"Here we are convinced that polls are part of the aftermath of the creation of a new party. Things will change. We are receiving positive feedbacks from the ground and are convinced that Silvan will prevent Likud from falling," they said.

Agriculture Minister Yisrael Katz woke up to bad news with polls showing him an unpopular candidate both among Likud members and the general public.

He too sought to portray a rosy picture, saying he is convinced Likud will do better than the polls predict.

"Likud supporters will vote for a responsible party, with a clear vision and clear principles," he said.

Likud temporary chairman Tzachi Hanegbi also sounded optimistic saying, "only few days ago we learned about the gaps between reality and polls, which predicted a reversed picture. Therefore polls should be ignored and we should work to unify the Likud and ensure the best results in the elections for the 17th Knesset."

Likud central committee members is set to meet in two days to discuss whether the remaining Likud ministers should pull out of the government.

Likud members favor Netanyahu to lead party

Likud members have joined forces to galvanize the party and prevent more senior members from slipping into Sharon's new camp.

With the party's central committee set to convene in a couple of days to determine a date for primaries and a list for Knesset candidates, former Finance Minister Benjamin Netanyahu seems to enjoy the widest popularity to lead Likud, the poll revealed.

Some 51 percent of Likud members prefer Netanyahu over other candidates, namely Defense Minister Shaul Mofaz and Foreign Minister Silvan Shalom, both second with a 15 percent support.

However, only 23 percent of the general

public supports Netanyahu as future prime minister.

As some weigh their steps and others lick their wounds, Ariel Sharon can brace for a third election victory as the general public seems to appreciate his political sleight of hand.

According to the survey, 55 percent of respondents estimate Sharon made the correct move in quitting Likud, in comparison to 23 percent who see it as a mistake.

The poll surveyed 702 respondents representing Israel's population eligible for voting and had an 8 percent error margin.