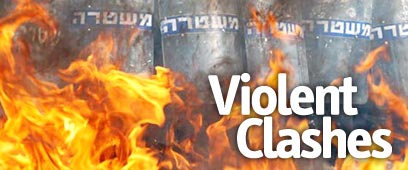 Settler hurt in clashes
Photo: Dudi Vaknin

Serious clashes in Amona
Photo: Amir Cohen

Smoke rising over Amona
Photo: AP
(VIDEO) Serious clashes; hundreds hurt: Security forces completed the takeover of nine homes in the illegal West Bank outpost of Amona Wednesday following three and a half hours of unprecedented clashes with settlers.

Outpost Evacuation

Unprecedented clashes in Amona: Police officer sustains very serious head injuries during evacuation of illegal West Bank outpost. Troops clash with settlers, MKs Eitam and Eldad among those wounded

The evacuation degenerated into a violent confrontation between thousands of settlers and thousands of soldiers and police officers. By early afternoon hours, 200 people were reported to have sustained injuries, including 80 members of the security forces, most of them police officers.

At least one police officer sustained very serious head wounds and was airlifted to hospital after he lost consciousness. Knesset Members Effie Eitam and Arieh Eldad, who arrived at the site to support the settlers' struggle, were also wounded. Many of the injured were airlifted to Jerusalem hospitals.

Shaare Zedek Hospital Director Yonatan Halevy said most of the injured who arrived at the hospital suffered baton blows.

"About 15 people arrived at the hospital, most of them lightly hurt," he said. "Most of them are protesters and a few are members of the security forces." More injured are expected to arrive at the hospital by bus.

'A line was crossed'

Meanwhile, Acting Prime Minister Ehud Olmert slammed the conduct of settlers in Amona during a Knesset committee meeting.

Security forces, settlers clash at Amona (Footage: Yaron Brenner)

"This is a phenomenon that cannot continue or be accepted. When bricks are thrown at the heads of soldiers and police officers, a line has clearly been crossed," he said. "This is reaching a scope we haven't seen before. This was an organized activity on the part of the settlers for political ends. "



Hundreds hurt (Photo: Dudi Vaknin)

"The State of Israel will not tolerate it," Olmert said. "I trust the State Prosecutor's Office judgment after they watched on television the kind of offensive faced by security forces," Olmert added. "I wish to convey a warm handshake to security forces who are carrying out the most difficult mission using admirable restraint and determination, in the face of this unprecedented offensive."

Settlers hurl insults at senior IDF officer

Security officials told Ynet they expected the "struggle in Amona to be violent and complex."

IDF Central Command Head Yair Naveh arrived in Amona and was promptly surrounded by dozens of settlers who hurled insults at him, referring to him as "criminal" and saying they will not be joining the army.



Difficult day in Amona (Photo: Amir Cohen)

The outpost's evacuation was undertaken in stages, with forces first heading in the direction of Amona at 3 a.m. Wednesday. The troops were greeted with a barrage of rocks, oil, paint, and water, but stopped at the outpost's entrance after the High Court of Justice issued a temporary injunction against the demolition of Amona homes.

The Court later rejected the settlers' petition, giving the go-ahead for troops to head into Amona at 10 a.m. Around noontime, a bulldozer razed the first structure in the outpost.

Troops proceeded to raze the other structures, after removing settlers barricaded on the roofs. In some homes, settlers burned tires to hamper the forces. Meanwhile, a Border Guard female officer was declared missing during the operation. Commanders in the area ordered their troops to undertake a count immediately in an effort to locate the missing fighter.

Anat Barshkovsky and Meital Yasur-Beit Or contributed to the report