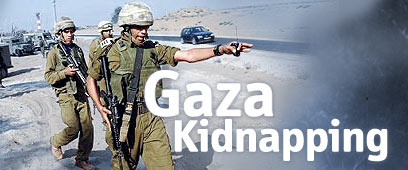 IDF officers visit Shalit family home
Photo: Avihu Shapira

IDF soldiers near Gaza
Photo: AP
IDF: Snatched soldier forced by terrorists to walk
Chief of IDF Personnel Directorate Elazar Stern visits western Galilee home of Gilad Shalit, the soldier who was kidnapped during attack on IDF outpost near south Gaza; 'I told the family that we know Gilad was forced to walk against his will during the incident. According to our estimations he is alive and being held in captivity.' Family friend: Gilad is a charming boy, he likes to help his family and friends out; we hope everything will end peacefully'
Chief of IDF Personnel Directorate Elazar Stern visited the western Galilee home of kidnapped soldier Gilad Shalit Sunday afternoon to update the family on the Kerem Shalom incident, during which two soldiers were killed.

Stern said to reporters after leaving the Barak residence that "I told the family that we know Gilad was forced to walk against his will during the incident. According to our estimations he is alive and being held in captivity. We are working to bring him home safely.

"This is a typically strong Israeli family that is well-aware of the situation; they are showing patience, but they are also living in uncertainty, praying and hoping that that it will all end as soon as possible. The family knows the IDF is making every effort to bring Gilad home as soon as possible."

Chief of Staff Dan Halutz also spoke with members of the Shalit family, telling them the army will do everything in its power to bring the missing 19-year-old soldier home.

Kerem Shalom Incident

In special press conference, IDF chief of staff says Hamas, PA responsible for Palestinian terrorists' combined attack on IDF post near southern Gaza Strip, for kidnapped soldier's fate; officer, soldier killed in attack, several troops wounded

Family friend Ilana Levy-Zrihan said, "We are following the developments closely and we're getting our information from the media. We hope everything will end peacefully."

Levy said Gilad began his IDF service 11 months ago.

"He is a charming boy, introverted, everyone's friend," she said. "He likes helping his family and friends out."

Gilad has a 20-year-old brother and 16-year-old sister.

An IDF official announced earlier that the Shalit family has been informed of Gilad's kidnapping, adding that family members are waiting for additional information.

Two IDF soldiers were killed Sunday morning in the attack on the outpost in Kerem Shalom: Lieutenant Hanan Barak (20) from Arad and Sergeant Pavel Slocker from Dimona.

IDF chief of staff Lieutenant-General Dan Halutz said during a press conference at Kibbutz Kerem Shalom that "as far as the IDF knows, the abducted soldier is alive."

'Palestinians are responsible'

"I really cannot go into details, but we have several reasons to believe that he is alive. The estimation was made based on the information we have," he said.

Sources in the Palestinian organizations that took part in the attack told media outlets in the Palestinian Authority that "the activists are providing the abducted soldier with medical treatment in order to use him as a bargaining chip and hold negotiations for a hostage exchange deal."

According to the sources, the soldier is seriously wounded.

Halutz stressed that "the Palestinians are responsible for the abducted soldier's fate, and we will do everything we can in order to return him. There is no doubt that this caught us by surprise, in certain aspects, without a concrete warning."

The chief of staff admitted that "the incident in Kerem Shalom caught us unprepared. This incident is a hundred times worse because this is also not the consequence we hope for in such an encounter."

"We have to understand that this war against terror is an ongoing war and we have to do all we can on a continual basis to deal with it. Apparently our breaks are misinterpreted by the other side, and things speak for themselves," he added.