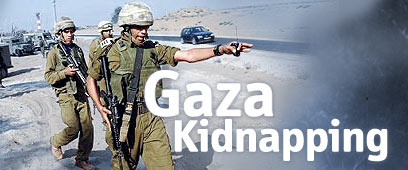 Hamas leader Mashaal
Photo: Reuters
The Syrian government has deployed security forces to protect Hamas leader Khaled Mashaal and has advised him to restrict all public activities for the time being, Hamas officials in the Gaza Strip told WorldNetDaily Tuesday.
Mashaal is believed to have called for the operation Sunday in which Hamas and other Palestinian terror groups carried out a well-orchestrated raid on an Israeli military station and kidnapped Israeli soldier Cpl. Gilad Shalit.
In response, Israel has deployed thousands of ground troops at the Gaza border and has threatened a major incursion.
Diplomatic mediators involved in efforts to free the captured soldier told reporters it is Mashaal's reluctance that has been the key obstacle. They said they were told Mashaal was indeed behind the directive to carry out the abduction and that they were hopeful his position against freeing Shalit would change.
'Mashaal Ordered Abduction'
During visit to home of kidnapped IDF soldier, deputy PM accuses Khaled Mashaal, currently in Syria: He is determined to ruin the peace. He instructed Kerem Shalom attack and is preventing abducted soldier's release
In what has been interpreted as a threat to Mashaal, Prime Minister Ehud Olmert yesterday told reporters, "Let it be clear. We will find them all (terrorists), wherever they are, and they know it. Let it be clear that no one will be immune."
He later said: "We will react against each and every terrorist and against each and every terror organization wherever it may be. They know we can reach them even when they believe they are safe. We do not act under pressure and therefore we have weighed our steps with patience. But the time leading towards an extensive, stern and harsh operation is growing shorter."
Mashaal has for years enjoyed the protection of the Syrian government. Israel accuses him of using bases in the country to order terror attacks and raise money for his terror group.
According to Israeli security sources, Syria and Iran has been pressuring Mashaal against releasing Shalit.
"Iran and Syria both want an escalation in the region to distract from the troubles surrounding their regimes," said a diplomatic source. "They want Israel to launch a ground operation. Violence helps them."
Israeli security officials told WorldNetDaily they have information the terrorists who carried out the Hamas raid and Shalit kidnapping were trained by Iranian Revolutionary Guard units and Hezbollah guerillas.
Senior Palestinian security officials linked to Palestinian Authority Chairman Mahmoud Abbas' Fatah party told WND Hamas and other Gaza-based groups have been receiving advanced military training by Iran and Hizbullah in recent months.
The officials said the training included carrying out guerilla attacks such as the one perpetuated this week, methods of intelligence collection, and instructions for the use of advanced missiles. The training, they said, took place in the Egyptian Sinai desert and at special camps set up in Sudan.
Defense officials here called the raid "stunning" and "well-orchestrated." It was the first kidnap-ing of an Israeli soldier by Palestinian terrorists since 1994. The operation went well beyond the scope of sophistication evidenced in recent Palestinian terror attacks.
Reprinted with permission from WorldNetDaily