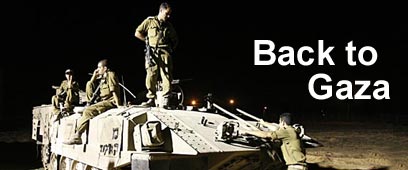 IDF forces prepare to enter Gaza
Photo: Amir Cohen
A moment before we lose more kids, God forbid, in the coming battle in Gaza, we must ask the Israeli government to stop the tanks, ground the planes, call the battleships back to port and silence the artillery.

We must do more than ask: We must plead with our government not to go out to this extraneous battle.

Can't we talk about it?

It should be said that instead of a fierce military reaction – even if one seems necessary – we must do everything, absolutely everything, to bring about the release Corporal Gilad Shalit in the nicest way possible.

Palestinian prisoners should be released – men and women, young and old, those with blood on their hands and those without. Furthermore, the government must promise more disengagements, whatever they may be called – disengagement, convergence, realignment, running away, Jewish population shift. This is the time to punish them for their collective sin.

Just let us avoid this war. It is doomed to failure from the start.

Two reasons for failure

Why will it be a failure? Because there is no chance in hell that the people who stupidly led us to the situation in which we now find ourselves vis-a-vis the Palestinians and their supporters will now extricate us from the mud.

There are (at least) two reasons for this: One, because our weak spot was been revealed for all to see during hostage crises in the past, and Israel's "diplomatic attempts" to bring about the release of hostages in the past. Those who had anything to do with those negotiations (both families and negotiators) now admit our government has been weak of hand and weak of will when dealing with murderers.

Secondly, they will not succeed because when we compare Israel's military power to that of our neighbors – we never talk about the main point. We compare weapons, or talk about the lack in technological advancement between the two sides.

But no one measures the power of the most important weapon a country who wants to live, who is dedicated to defeating its enemies, can have: Faith in the justice of its cause and its actions. The ability to walk upright, and even the willingness "to die for one's country."

Lack of spiritual weapons

There is no question that only the lack of this spiritual weapon among of so many Israelis – leaders and civilians alike – has made possible the diplomatic blindness we now find ourselves stuck with, whereas the opulent presence of this weapon among the Palestinians allows them to beat us day after day, hour after hour.

The time has come to tell the truth, at least to ourselves: We've got no chance to win this battle. Not as long as we continue to pulverize all remnants of national pride, of our identity and of our faith that we have a right to life. Not as long as we, ourselves, do everything we can to call these things into question.