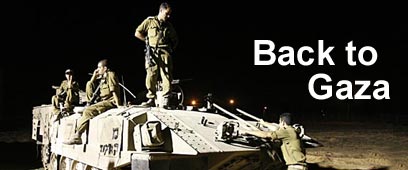 Palestinian President Mahmoud Abbas. 'Collective punishment'
Photo: AFP

Palestinian child in Gaza
Photo: Reuters
The Gaza Strip is regaining consciousness from a night of bombardments which were renewed on Wednesday part of Operation Summer Rains which the Israel Defense Forces launched to free a kidnapped soldier.

The targeting of a power station has kept most of the tiny strip blacked out.

Gaza Operation

(VIDEO) IDF warplanes attack Palestinian Authority infrastructures in framework of operation 'Summer Rains'; power station set ablaze, bridges targeted

Palestinian gunmen meanwhile are bracing for the entrance of troops into Gaza to rescue Corporal Gilad Shalit, who was kidnapped in an attack on troops near Gaza on Sunday.

Roadside bombs, explosives device and ammunitions have swarmed the streets of Gaza city and the Rafah area.

Hundreds of Palestinians left their homes for safer areas to avoid being caught up between soldiers and gunmen.



Family fleeing its home (Photo: AFP)

The Palestinian government's official stance on the latest development came in the form of a claim that the fate of Shalit hinges on Israel.

Palestinian President Mahmoud Abbas described the operation as a crime. "This is an attack against our infrastructure and civilian targets," he said.

Abbas said the operation is an act of collective punishment, but made it clear that the Palestinian Authority is doing all it can to convince the kidnappers to free Shalit.

"We were surprised by the violent Israeli escalation, which doesn't serve a purpose but to destroy Palestinian lives," he said.

Calls for international intervention

The Palestine Liberation Organization's Executive Committee will file a complaint to the United Nations Security Council demanding Israel be pressed to stop the operation.

Aides said Abbas will ask US President George W. Bush and other leaders to sway Israel into calling off the offensive.

Palestinian government spokesperson Ghazi Hamed said the incursion into Gaza is "an unjustified military adventure whose implications are serious. Israel will not succeed in this operation because it will not get what it wants."

Osama Hamadan, Hamas's representative in Lebanon, said the only way for Israel to secure the release of Shalit is to comply with his group's demand that Palestinian female and minor prisoners be released.

Military commanders in Gaza said the operation was launched to restore the army's confidence after the blow it had suffered on Sunday, when a Palestinian cell attack an IDF post near Gaza killing two soldiers and kidnapping Shalit.

Fleeing battle scene

"I am going no where because I have no where to go to, but the situation is unbearable especially that my three children suffered from anxiety overnight and in the morning," says Hatem, 36, a resident of Khan Yunis.

Hundreds of residents were seen leaving the refugee camp and other parts of northern Gaza for fear that the IDF will widen its ground incursion.



Gaza resident after IDF strikes, Wednesday morning (Photo: Reuters)

Palestinian group set up an operation room to coordinate attacks on advancing Israeli troops.

"We prepared bombs and rockets containing chemical and biological weapons and we won't hesitate to use them if the enemy enters Rafah," said Abu Qusai, a senior member of the al-Aqsa Martyrs' Brigades, the military wing of Abbas's Fatah party.

"We learned the lessons of former incidents. Or there will be a proper contribution or the fight will go on while endangering his life. There is no chance the Israelis will get him for free," Hamas gunmen told Ynet.