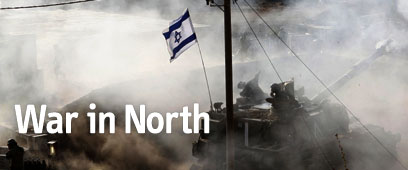 Hizbullah rocket in Haifa
Hagai Aharon
The Home Front Command has advised Haifa and the Krayot residents to remain in buildings, though not necessarily their homes. Residents have been told that businesses and factories are also considered safe areas to remain in, Home Front Commander Yitzhak Gershon said during a meeting with Haifa Mayor Yona Yahav and the heads of councils from the surrounding cities.

Gershon said that Haifa was prepared for Thursday's rocket attack in the Stella Maris neighborhood and that the state of shelters in the city was excellent, despite the years of calm.

"We need to prepare to absorb in the short term future in order to beat back the threat of rockets in the long term," he said.

"We must not surrender to threats, especially since we completed all of our international obligations towards Lebanon," said Gershon.

Return to normal

The major general also addressed the order for certain communities, including Safed and Nahariya, to remain in bomb shelters and not to leave to stock up for Saturday.

"The level of danger in these areas are higher and due to the nature of things we don't want to increase the threat to the lives of the residents," Gershon said.

Haifa Mayor Yona Yahav told Ynet that the municipality planned to return to normal this coming Sunday.

Summer camps stopped will be reactivated along with planned cultural events.

Almost all of the events over the weekend have been cancelled.

Yahav added that Haifa municipality has been training for nearly a year for rocket attacks on the city, and has been cooperating with civilian security forces – the police, fire services, and Magen David Adom, as well as the Home Front Command, to set up an emergency response system.

He added that on Friday all of the response steps were carried out correctly, allowing a swift and immediate response to the rocket attack.