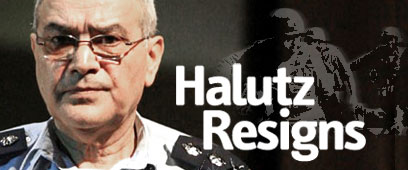 Moshe and Riva Muskal
Photo: Yoav Galai
Bereaved parents who lost their sons during the war in Lebanon this summer, welcomed IDF Chief of Staff Dan Halutz's resignation, and said the move was commendable.

"We have no consolation or a sense of vengeance, all we want is for the army to recover, and that the would-be bereaved parents of the next war know that the ones leading their sons are at least doing their best to see that they return home safe," Yisrael Klausner, the father of Ohad who was killed in Lebanon, said.

"Halutz is a fine example for an ethical person. Although he is said to be an unemotional man, I found him to be a very principled and sensitive person. Once he realized he had exhausted his ability to improve and rehabilitate the army, he made this move, which is very important for the army and the state."

"We now call on Peretz and Olmert to follow Halutz. It is inconceivable that the next army chief will be appointed by the same people who failed in this war," he added.

Riva Muskal, the mother of Refanel who was also killed in the war, stated that "Halutz's resignation is not a day of rejoicing and not an easy day. In any event, he took the first step, and we certainly expect that he will be followed by others. Unfortunately, the chief of staff failed in his mission, but it's clear to us that the responsibility does not lie only with him."

Riva's husband Moshe added, "The important thing is to institute the norm of assuming responsibility… We have reached such chaos of corruption, and the failures are apparently only the symptoms. We need to return to all the fundamental values that will do this nation good."

David Einhorn, father of the late Yehonatan, believes that the resignation was the right step to take. "He should have taken responsibility a long time ago, but it's a good thing he did it now. He is showing both his subordinates and his commanders the right way – just go home."