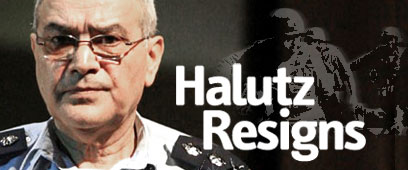 Prime Minister Ehud Olmert
Photo: Gil Yohanan
Prime Minister Ehud Olmert issued a statement Wednesday in response to IDF Chief of Staff Dan Halutz's resignation.

"I am deeply sorry about the army chief's resignation," the statement said, " "Lieutenant General Halutz is one of Israel's great fighters. For 40 years he served the IDF and was one of the Israel Air Force's exceptional pilots."

"Halutz is a remarkable, courageous man, who served the country loyally with unmatched personal sacrifice. All the people of Israel share in the great esteem me and the Israeli government feel for him," said Olmert's statement.

"In the recent months I spoke with the chief of staff many times. In all our meetings he expressed determination to lead the IDF to a series of inquiries of an unprecedented scope, in order to draw all the possible lessons from the war in Lebanon, and prepare for the challenges ahead in the most appropriate way," the statement read.

"Now that the inquiry stage is over, he decided to resign and leave it to his successor to implement the necessary changes. I have no doubt that in the future Dan Halutz will continue to serve the State of Israel with skill and devotion, as he has done throughout his life," the PM said.

"In the coming days, in coordination with the defense minister, I plan to hold a series of consultations regarding the appointment of the next army chief, with the vice premier, former prime ministers, the opposition chairman, former defense ministers, head of the Foreign Affairs and Defense Committee, the current army chief and former army chiefs," Olmert concluded.