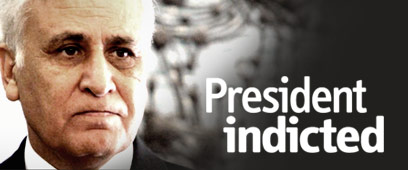 President Moshe Katsav
Photo: Amir Cohen
President Moshe Katsav must resign immediately and face the charges against him, more than 30,000 Ynet readers said Wednesday.

Nearly 34,000 readers took part in the Ynet poll. They were asked, "Following the decision to indict him, should President Katsav (1) resign immediately and leave the President's Residence, (2) suspend himself, (3) remain in office until the end of his term in May?"

A vast majority of 89 percent of the respondents chose the first option, saying that Katsav must resign. Some 5 percent said that he should suspend himself, while 6 percent said that he should remain in office.

These data and the large number of voters imply that contrary to the president's request for temporary suspension, the large majority of the Israeli public believes otherwise.

Senior ministers, including Justice Minister Tzipi Livni and Internal Security Minister Avi Dichter, also urged the president to resign immediately.