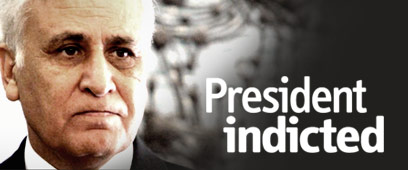 Israeli President Moshe Katsav
Photo: Haim Zach
The Knesset House Committee convened Thursday morning in order to discuss President Moshe Katsav's request for a three-month temporary suspension following the decision to indict him.
The committee members will vote on approving the request, and will later discuss a motion to impeach the president.
Committee chairman, Knesset Member Ruhama Avraham, said at the opening of the session that Katsav has asked her to limit the suspension to three months, or until the attorney general rules on the indictment.
"This meeting convenes under unfortunate circumstances… these are moments of sorrow and grief, moments of disgrace," Avraham said in a statement.
MK Limor Livnat (Likud) called on committee members to reject the president's request for temporary suspension.
"Think of how we look. What a disgrace. The message sent by the Knesset goes out not only to these victims, but to other women facing impossible situations, afraid to complain, and they need to know they will receive help, that the wheels of justice turn even in the case of an authority figure," Livnat said.
Meanwhile, MK Michael Eitan (Likud) accused the media of prematurely convicting Katsav.
"There hasn't been a trial against him yet, he hasn't been convicted. Maybe the victim here is the president," he said.
The committee's chairman urged the members to consider the gravity of the motion and the possible implications of their decision.
If the committee approves the suspension, the president will be replaced by Knesset chairman, MK Dalia Itzik.
Knesset Members Limor Livnat and Shelly Yacimovich at committee meeting (Photo: Haim Zach)

A substantial number of the committee members oppose the motion and demand that the president resign immediately. The members are in the meantime tied: 11 said they are in favor of the suspension and 11 said they were against it.

If approved, Katsav will not serve as president in exchange for his immunity against indictment. If rejected, Knesset members will be the ones to decide on whether or not to impeach the president.

Solid-bloc against Katsav impeachment likely

It takes a majority of 90 votes to impeach a president in Israel, but according to a Ynet poll of 85 Knesset members, it seemed an unlikely number of votes to reach. Thirty-five Knesset members did not participate in the poll for technical reasons.

Twenty-six Knesset members said they would vote against Katsav's impeachment, while two said they would refrain from voting.

Thirty-five Knesset members said they would vote for Katsav's impeachment, and 22 did not respond.

It would only take three additional Knesset members to create a solid bloc against the president's impeachment.