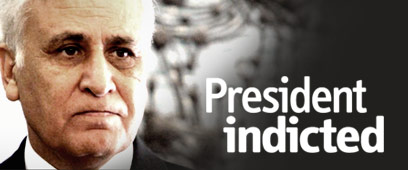 President Moshe Katsav
Photo: Haim Zach

Attorney Avigdor Feldman
Photo: Dudi Vaaknin

Attorney Zion Amir
Photo: Niv Calderon
Katsav lawyers say they won't boycott Knesset
In light of public criticism following letter in which President Katsav's lawyers announced they would not attend Knesset House Committee discussions on impeachment procedure, Attorney Zion Amir says he will attend meeting. Earlier, MK Galantee says "lawyers' absence raises many questions'
Following public pressure and criticism by Knesset members, President Moshe Katsav's lawyers announced that they would arrive at the Knesset's House Committee discussion on the president's impeachment Wednesday.

In a letter sent to the committee's chairman, MK Ruhama Avraham, Attorney Zion Amir said that the lawyers would attend the meeting, in spite of an earlier letter in which he stated that "we have no intention of arriving."

Public Protest

Protestors call on president to resign, urge Knesset to impeach him if he fails to do so

In the first letter sent to Avraham, Attorneys Zion Amir and Avigdor Feldman wrote,"At this stage the Knesset members have no evidence and all they are relying on is the attorney general's announcement that he is considering indicting the president, subject to a hearing.

"The president and his representatives are now studying the investigation material and are preparing for the hearing."

The president's lawyers also protested the fact that the president is forced to present evidence, testimonies and affidavits to the Knesset, which is not the body in charge of the legal system, before he has even presented his claims to the attorney general.

According to the lawyers, the procedure which was approved by the High Court of Justice following the appeal demanding the president's resignation "is a reasonable procedure which fits the essence of the situation and the essence of the person and the role this procedure is referring to."

The lawyers warned that if the Knesset takes a different course this could badly influence the attorney general, who has to decide whether to indict Katsav. They also warned against a scandalous and severe "field trial," which "may harm the president's essential rights as a president and the president's rights as a citizen."

MK: President showing contempt for State

The two attorneys also wrote that "there are those who may interpret the steps in question as being carried away by an impassioned public opinion, making political gains also at the price of hasty and unreasonable constitutional moves."

The lawyers claimed that this was unacceptable to them and that they viewed it as an unjustified attempt to hurt Katsav in his legal war.

The attorneys added that the president has no intention of attending a preliminary trial or hearing in front of the committee.

MK Itshac Galantee (Pensioners Party) said in response that the president and his lawyer's absence "raises many questions.

"There is no apparent reason which would prevent them from attending the committee discussions and stating their case," he said.

MK Zahava Gal-On (Meretz) said that "the president and his attorneys continue to show nothing but contempt for the State's elected institutions.

"The Knesset House Committee does not presume to determine whether the president is guilty or not of the acts he has been charged with, but to decide if he can continue to hold his post considering the gravity of the crimes attributed to him," said Gal-On.