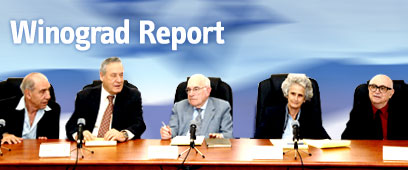 Eitan Cabel (archive photo)
Photo: Niv Calderon

Ami Ayalon (archive photo)
Photo: Tsafrir Avayov
Labor Party minister Eitan Cabel announced Tuesday that he was resigning from the government following the Winograd Commission report, which found severe failures in the Prime Minister Ehud Olmert's management of the Second Lebanon War.

"Ehud Olmert is responsible for war's failures and must resign," Cabel told a Tel Aviv press conference. "The public has lost its faith in the prime minister. I cannot sit in a government with Olmert at its head."

Holding On

In TV address, prime minister says he will not resign despite harsh conclusions of Winograd Commission, states he plans to hold special cabinet meeting on report, appoint team devoted to implementing lessons

Cabel said he hoped other ministers would follow suit. "I will see to it that my resignation will lead other coalition partners to realize that it is everyone's duty to work toward Olmert's resignation.

Cabel, who is backing Ehud Barak in the race for Labor chairmanship, said he would demand that the former prime minister refrain from joining Olmert's cabinet.

Meretz Chairman Yossi Beilin supported Cabel's decision.

"All of the Labor ministers should follow in the footsteps of Ophir Pines-Paz and Eitan Cabel and leave the failing government that has lost its moral validity," he said.

"I laud Cabel's move. The Labor remaining in the government is reaching new levels of sick devotion."

Meanwhile, an aide to Ami Ayalon said that if elected Labor chairman in the May 28 primary elections, Ayalon would demand that the party's ministers resign from cabinet.

"From a moral standpoint he would not be able to allow Labor to remain in the government," the aide said.

According to Ayalon's associates, he prefers the establishment of a "national rehabilitation government" under the leadership of someone other than Olmert.

On Monday, Ayalon called on Olmert to resign due to the Winograd report.

"Olmert must take responsibility and resign as the Winograd report's conclusions are much more severe than earlier publications, and they indicate the inclusive failure of character of the Israeli leadership," Ayalon said.