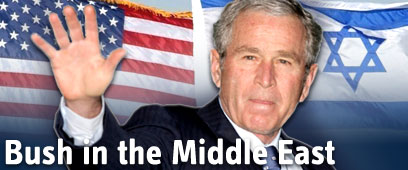 Big smiles in Jerusalem
Photo: GPO
US President George W. Bush met with President Shimon Peres and Prime Minister Ehud Olmert Wednesday and stressed his commitment to the two-state solution.
Without the full implementation of the Road Map, added the US president, there can be no peace.
Opinion
Israel welcomes true friend, who is here because we're world's bleeding wound
After an official reception at the presidential residence, Bush headed to Olmert's Jerusalem home. Olmert and Bush quickly turned into the PM's study, where Bush presented Olmert with an orange football stamped with the US flag, a sports bag carrying the presidential seal and cufflinks.
Olmert, on his part, presented Bush with the Israeli cycling team's uniform – a tribute to the US president's hobby. The uniform's caption read "George W. 43" – indicating the president's name and his being the 43rd president of the United States.
Olmert further presented Bush with a bicycle's GPS (Global Positioning System) device fitted with special software mapping out cycling routes on the president's Texas ranch.
Olmert, Bush and the GPS device (Photo: GPO)
Olmert and Bush then headed for their meeting, where Olmert was expected to present Bush with Israel's positions regarding negotiations with the Palestinians, as well as with the current information Israel has regarding the Iranian nuclear program.
The two were also expected to discuss the security guarantees Israel demands from the Palestinians in order to continue negotiations.
At the end of the two-hour meeting the two are expected to hold a short press conference.
Aviram Zino contributed to this report