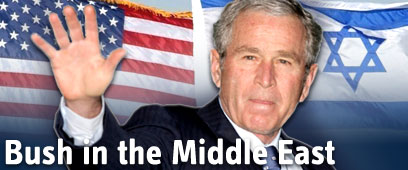 Sign displayed during rally
Photo: AP
Rightists: Bush and Olmert bringing Holocaust upon us
200 right-wing activists gather in Jerusalem to protest US president's visit, one detained. 'How would the American public react if Bush were to say after his inauguration that the US must cede Seattle and Manhattan?' SOS Israel head asks. 'A traitor,' demonstrators shout back
Some 200 right-wing activists gathered in central Jerusalem on Thursday evening to protest the ongoing visit of US President George W. Bush.

Letters to the President

Letters addressed to US president urge him to release Pollard and refrain from advancing Israeli territorial concessions in Jerusalem as part of peace agreement with Palestinians

The rally was organized by the 'SOS Israel' under the banner of praying for a unified Jerusalem. Protestors read psalms and carried signs, several of which warned that Bush and Prime Minister Ehud Olmert were "bringing another Holocaust."

One demonstrator was detained for displaying a fake gun.

"The struggles for the other settlements will be ten-fold what there was in Amona. It is good to die for our country," said SOS Israel chairman Rabbi Dov Wolpe, echoing the reputed last words of legendary Zionist activist Joseph Trumpeldor.

"It won't do Bush and Olmert any good – one land for one nation."



'Terror abettors'. Rally in Jerusalem (Photo: AP)

Some protestors held posters depicting Bush, Olmert and President Shimon Peres wearing kaffiyahs (Muslim headdress), with the words "terror abettors" written on them.

"There is talk of President Bush's vision of two states for two peoples - may the all-merciful protect us," Wolpe said. "On the day after his election President Peres said we must cede the territories. If the president of the United States would have said after his inauguration that Seattle and Manhattan should be handed over, what would (the American public) call him?"

"A traitor," the demonstrators shouted back.

Wolpe continued to say that "only the coming of the messiah can save us, not the High Court (of Justice), which is collaborating with the Arabs."

Rabbi Yisrael Ariel, founder of the Temple Institute in Jerusalem, read from a letter he intends to pass on to Bush: "We expect you to order the immediate release of Jonathan Pollard prior to your return to the US."