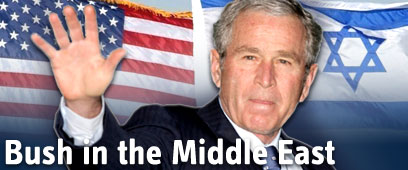 Yad Vashem
Photo: Yossi Ben-David
President George W. Bush arrived at Israel's official Holocaust memorial on Friday, visiting exhibits that detail the Nazi extermination of European Jewry.
The Yad Vashem memorial was closed to the public and under heavy guard Friday, with armed soldiers standing on top of some of the site's monuments and a police helicopter and surveillance blimp hovering in the air overhead.
Wearing a yarmulke, Bush placed a red-white-and-blue wreath on a stone slab that covers ashes of Holocaust victims taken from six extermination camps. He also lit a torch memorializing the victims.
''I was most impressed that people in the face of horror and evil would not forsake their God. In the face of unspeakable crimes against humanity, brave souls - young and old - stood strong for what they believe,'' Bush said.
''I wish as many people as possible would come to this place. It is a sobering reminder that evil exists, and a call that when evil exists we must resist it,'' he said.
Moved to tears
Bush was visibly moved during his hour-long tour of the site, said Yad Vashem's chairman, Avner Shalev.
''Twice, I saw tears well up in his eyes,'' Shalev said.
At one point, Bush viewed aerial photos of the Auschwitz death camp taken during the war by US forces and called Rice over to discuss why the American government had decided against bombing the site, Shalev said.
''We should have bombed it,'' Bush said, according to Shalev.
In the memorial's visitors' book, the president wrote simply, ''God bless Israel, George Bush.''