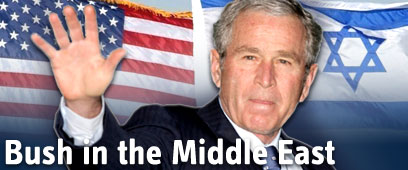 Bush boarding Air Force One in Tel Aviv
Photo: AP

Laying a wreath in Yad Vashem memorial
Photo: Alex Kolomoysky
Bush pledges to return to Israel in May
US president heads to Kuwait after eventful three-day visit to Israel, says he feels 'optimistic' about possibility of achieving peace treaty in near future. Earlier on Friday Bush traveled to several Christian holy sites, paid his respects to Holocaust victims at Yad Vashem
President George W. Bush said Friday that he would return to Israel in May for the country's 60th anniversary.
Bush's Road Map
Why is Israel proceeding with Road Map before implementation of first phase?
''There's a good chance for peace and I want to help you,'' Bush said, flanked by Israeli Prime Minister Ehud Olmert and Israeli President Shimon Peres at the airport here, where he boarded Air Force One, ending his visit to Israel and the Palestinian Authority.
''Mr. Prime Minister and Mr. President, thank you very much for your invitation to come back. I'm accepting it now,'' Bush said on the tarmac.
From Israel, Bush was headed to Kuwait, a tiny oil-rich nation his father fought a war over and one of only two invited guests to skip the splashy Annapolis, Maryland, rollout Bush hosted for the new US-backed peace talks. Getting an Israeli-Palestinian peace pact signed would be an important milestone in Bush's presidential legacy.
Bush said at the airport his visit had been very positive and that he was carrying "a message of optimism" about the possibilities of achieving an Israeli-Palestinian peace treaty.
Bush said during the trip he expected an agreement would be signed by the end of the year.
'Amazing to be walking in Jesus' footsteps'
Just before leaving on Friday Bush also visited the site where Jesus is believed to have intoned "blessed are the peacemakers."
Near the hilltop where Christian faithful believe Jesus delivered the Sermon on the Mount, two robed Franciscan friars, one of them reading to Bush from the Gospels, escorted the president to a jetty on the Sea of Galilee.
Asked what it was like to be walking in Jesus' footsteps, Bush replied: "It's an amazing experience."
Wrapping up his first presidential visit to Israel and the occupied West Bank, Bush was leaving Israeli Prime Minister Ehud Olmert and Palestinian President Mahmoud Abbas with a forceful message of his own: "Now is the time to make difficult choices."
He told them, in a challenge to skepticism deepened by the past seven years of violence and diplomatic impasse, that he believed Israel and the Palestinians would sign a peace treaty
by the time he left office in January 2009.
Holding the hands of two nuns, a beaming Bush entered the Franciscan chapel on the Mount of Beatitudes, overlooking the ruins of Capernaum where Christians believe Jesus performed
miracles, including walking on water in the Sea of Galilee.
The chapel features eight carved Latin beatitudes from the Sermon on the Mount, including the passage: "Blessed are the peacemakers for they shall be called the children of God."
He also toured the ruins of an ancient synagogue at Capernaum, or Kfar Nahum in Hebrew, where tradition says Saint Peter lived.