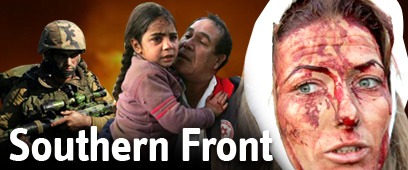 IDF tank in Gaza (Archive photo)
Photo: AFP
How do we try to calm hell? By making it even hotter. Every year we kill hundreds of hell residents, destroy homes and vehicles, and wait for everything to quiet down. This is how it works in Gaza. This is how it fails.

We kill 19 people in one day, including the son of a senior figure, and wait for quiet to prevail. And then, a Qassam barrage follows. Just like the Second Lebanon War. The routine is simple: The IDF does not rush to enter the Strip for fear of heavy casualties among our troops. So we deliver hard, non-surgical blows. We kill many from the air, and then we see a change: A sea of Qassams.

And then, the brilliant idea of a ground incursion emerges again; the same thing that was carried out at the end of the Second Lebanon war – the 33 casualties of the last, needless hours. A ground incursion into Gaza is like a magic cure for baldness around here: Everyone counts on it, but nobody believes in it.

Let's say we enter Gaza with tanks and large Golani or Givati or paratroop forces. Let's say we go door-to-door through the miserable camps, hurt others and sustain blows ourselves. Will we be able to clean up the crowded prison cells of a million and a half Gaza inmates? Nab every gunman? Uncover every arms cache? Block every tunnel? Will we stay there for a year and then dream about leaving? Won't we see a rain of Qassams pouring down during the operation? Just look at the Lebanon war and you can see everything.

There is no way to crush popular resistance to occupation or to a foreign army – I heard this message from 100 Shin Bet officials in the years I have been visiting these military training zones. There is no military way, and still, even Olmert, the sly attorney who lost his faith in the army and who even dared complain about the army's power to drag all of us in, tries the same military moves time and again. He is being dragged by the IDF, and by Ehud Barak, who is his defense minister but also a political rival who wishes to see the PM ousted. This is such a dangerous, lethal combination.
Rocket range equals depth of despair
This is the same defense establishment that failed to thwart a simple Gaza ambush by a few gunmen and allowed them to kidnap IDF soldier Gilad Shalit from his tank. It's the same defense establishment that was unable to regain its composure immediately after the ambush and rescue the soldier; the same defense establishment that failed to conduct quick and effective talks to secure his release.

We shall say it for the thousandth time: Gaza is hell. In the 40 years it was in our hands - and it is still in our hands ever since we left, through our spy aircraft and border crossings, and collaborators, and fences – not even one hospital room or clean well was added.

It is hell that is subjected to bombings and ceaseless nightly incursions. Gaza is hell right next to our home. And as long as it is merely a punching bag for our troops without any grandiose aid or rescue plan and no real diplomatic talks, Gaza will poison us like an abscess.

There is no ground incursion that would salvage Sderot; because Sderot and Khan Younis and Beit Hanoun are tied together in a Siamese-city alliance with the same blood system.

The deeper Gaza sinks, the more it goes hungry, the more it is darkened, burned, pulverized, and beaten, the more we will see the rocket range grow. The firing range equals the depth of despair. Gaza will grow quiet only when it starts hoping.

This is much more complicated than any ground incursion, but Sderot will rest only when Gaza rests. I know this sad, sick, dusty, hungry, thirsty, unemployed, and hopeless hell. It will be there forever, next to us, and just like any burning place it will give off burning shrapnel as long as it's on fire.

Those who wish to attempt to put out the fire through a ground incursion or the killing of the sons of leaders should be reading the upcoming Winograd Report. Everything is in there; the folly of the military establishment, the brutality of the Mofaz-Halutz army and their successors, and the complete absence and abduction of the democratic ruler – the political leadership.