Kosovo's Prime Minister Hashim Thaci
Photo: AP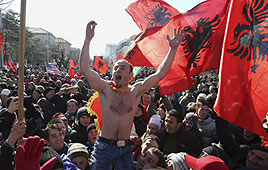 Albanians celebrate
Photo: Reuters
PRISTINA - Kosovo's parliament convened a special session Sunday, in which Prime Minister Hashim Thaci declared Kosovo's independence from Serbia. The parliament unanimously approved the declaration, officially giving rise to the new nation.

"From now on Kosovo is a free, proud, independent nation," said Thaci.

Tens of thousands of Kosovars and ethnic Albanians from neighboring countries have already descended on Kosovo's capital, Pristina, in order to celebrate this declaration of independence.



Proudly displaying the Alabanian flag (Photo: Reuters)

"We, the democratically elected representatives of the people hereby declare Kosovo to be a free and independent country," the prime minister read the momentous declaration, noting that "this step reflects the will and desire of the Kosovar people."

Parliament Speaker Jakup Krasniqi opened the celebratory session of parliament by stating that "this is a new page in Kosovo's history, and we must work to establish a democratic country for all of its inhabitants, a country that will cooperate with the international community and be an exemplary part and parcel thereof."



Kosovo's parliment during historic independence vote (Photo:AP)

During the session, deputies also voted on new state symbols for the province, most notably a new state flag. While revelers are still waving the old Albanian flag in the streets of Kosovo, the new flag is expected to be blue, and be emblazoned with a map of Kosovo, as well as yellow stars that symbolize the country's desire to become part of the European Union.

Food vendors set up booths along the main road in Pristina and handed out free food and drinks to the many revelers who took to the streets. A massive "indepence cake" was also baked in honor of the new nation's independence for jubilant citizens to enjoy. Kosovo will also celebrate nationhood tonight with fireworks, special concerts and musical performances.

Kosovo's population is comprised of roughly 90% ethnic Alabamians, who have long expressed their desire to cede from Serbia and establish an independent state. The US and key EU nations have also long supported Kosovo's aspirations for statehood.

US President George W. Bush said earlier Sunday that he endorsed the plan proposed by Martti Ahtisaari, Special UN Envoy for Kosovo, which advocated granting Kosovo independence under international supervision.