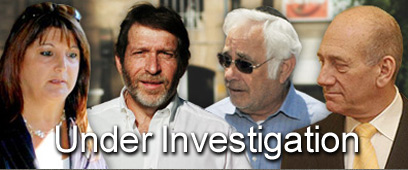 PM Olmert. Close to peace deal?
Photo: AFP
Report: Likud activist behind new Olmert probe
Aides to prime minister claim new affair brought to light by right-wing activists opposed to Olmert's political progress, on eve of acquiring peace deal with Syria. Timing not coincidental, they say. Attorney general, police to discuss removal of gag order placed on PM probe
Aides to Prime Minister Ehud Olmert have told the London-based Arabic-language newspaper al-Sharq al-Awsat that the person behind the new accusations against Olmert is a well-known Likud party activist.

According to the sources, the woman decided to expose the affair at the current time because of the recent diplomatic progress made by the prime minister.

Al-Jazeera:

Qatari news channel quotes Israeli State sources as saying prime minister may resign, at very least suspend himself following police investigation against him. Prime Minister's Office rejects claim

The sources said that the political progress in the region prove Olmert shows great progress in negotiations towards peace, and promise for achieving peace in the entire Middle East, including deals between Israel and all of its neighboring Arab states. Thus, they claimed, the timing of the revealing of the affair was not coincidental.

One of the sources asked the public to take notice of those involved in the affair, who he said have opinions that differ from those of the prime minister.

The details of the new affair remain under a strict gag order imposed by the Magistrate's Court on the media, despite the international media's coverage of the case. Sources from the State Prosecutor's Office have estimated that the gag order will be partially lifted after Independence Day.

Police representatives will meet Thursday evening with Attorney General Menachem Mazuz in Jerusalem to discuss the removal of the gag order.

The New York Post published details about the new Olmert affair on its website, and the New York Times followed suit. The publications included reports about a foreign national involved in the case.

The paper's staff even contacted the foreign national's family members, and the latter explained to them that there was no basis to the sayings, according to which the probe is an attempt to topple the prime minister because of his political progress. The paper also compared the Olmert affair to former Likud MK Omri Sharon's incarceration.