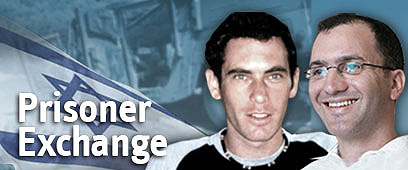 Omri Avni: Karnit is hurting
Photo: Orly Zeiler
Sad day for families: After receiving official confirmation Wednesday afternoon that Ehud Goldwasser and Eldad Regev are no longer alive, Karnit Goldwasser's father says that "after two years that weren't easy, this is our toughest moment."

Omri Avni, whose voice shook as he spoke, said his daughter "vowed to bring Udi Home. Now that she delivered, the emotions burst out and all of us are facing a difficult situation."

"We want to be alone again now, just the family, cry, hug, and offersupport," he said. "My daughter is digesting this now, and she's hurting. I know this is very difficult for her. She cried and I think that this is a good thing happening. Karnit is looking ahead to the future, and so are we."

"We want to be alone again now, just the family, to cry, hug, and offer
'Smadar Haran a brave woman'
Turning his attention to Gilad Shalit, Avni promised the Shalit family to continue the struggle to release their son.

Sad Day

(VIDEO) Regev, Goldwasser family members break down after seeing images of loved ones' coffins turned over to Israel; said to identify remains later Wednesday, hold ceremony at northern IDF Shraga's Base

"We started this process as three families, Shalit, Regev, and Goldwasser. We will continue as three families, until Gilad too returns home," he said. Avni also thanked mediator Ofer Dekel and said the Prime Minister's Office also played a part in seeing the swap materialize.

Addressing the Haran family and Samir Kuntar's release, Avni said: "Smadar Haran is a brave woman. She knows that the murderer of her family did a good thing now by going away, and thanks to that bringing Udi and Eldad back here," he said.

The identification process of Goldwasser's and Regev's bodies was completed Wednesday afternoon. Major-General Elazar Stern, head of the IDF Personnel Directorate, and Central Command Chief Gadi Shamni arrived at the families' homes to officially inform them of their sons' tragic fate. Simultaneously, trucks began transferring terrorists' bodies to Lebanon, in line with the prisoner swap agreement.