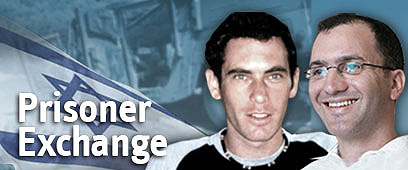 Samir Kuntar returns to Lebanon
Photo: Reuters

Soldiers' caskets return to Israel
Photo: Reuters
Israel's 'moral victory' airs on YouTube
Foreign ministry launches video explaining to Arab world who 'real Samir Kuntar' is: 'Hizbullah is terrorist organization that sees cold-blooded child murderer as hero,' spokesperson says in Arabic. Political officials satisfied with Israeli hasbarah of prisoner swap
"For Hizbullah, Samir Kuntar is a first-rate hero, while for Israel and the rest of the civilized world he is the most despicable of murderers," Israel said to the Arab world through a video targeting Arab speakers, released by the Foreign Ministry. The video, which can be seen on YouTube, aims to explain Israel's moral victory over Hizbullah.

Kuntar-mania

Sharon Gilad wonders why Israel allowed homicidal maniac to turn into celebrity

In the clip Ofir Gendelman, deputy director of the Arab press and public affairs division in the Ministry of Foreign Affairs, explains who Kuntar is and what brought to the approval of the prisoner swap deal. The video was first launched on the ministry's Arabic website, as well as its YouTube channel.

"This is a child-killer whom Hizbullah is welcoming with praises, cries, and parades. This is a savage murderer, whom you extremists see as a hero," he said in the clip. "Hizbullah is a radical terror organization that working under Iranian sponsorship. Hizbullah is proud of cold-blooded murder."

Gendelman, who was a consul in Canada until recently, concluded his explanation with a warning to all Arab web-surfers. "Respected viewers, just one last word," he said. "If Hizbullah tries to carry out another kidnapping, the Israeli response will be tougher than it was in July 2006."

The video is part of a new Foreign Ministry initiative, targeting the Arab world directly through the internet. "The age of waiting for an interview with an Arab station is over," Gendelman told Ynet. "The aim is to create a dialogue through the channel's talkback mechanism. This video is the first, and in it we stressed the cynical way in which Hizbullah has exploited the families' grief and its and Samir Kuntar's boastful manner."
Balancing the scales
Political officials expressed satisfaction at the success of the Israeli hasbarah (lit: explanation) on the day of the kidnapped soldiers' return to Israel. Sources said that the hasbarah organizations involved in the affair, including the Prime Minister's Office, Foreign Ministry, IDF Spokesperson's Office, and more, cooperated in order to balance the scales with Lebanese broadcasts of celebration.

"The cooperation had one goal: To flood the foreign media with information on the real Kuntar," one official said.

Yarden Vatikai, director of hasbarah at the Prime Minister's Office, said that "all of the foreign networks are reporting about the Samir Kuntar we wanted to be seen. This is a difficult battle, and I don't want to boast, but we have a situation here in which all of the Israeli organizations are speaking in the same explanatory language, and transmitting the same messages."

In Jerusalem preparations for the day of the exchange were accompanied by the distribution of explanatory memos to all of the hasbarah organizations and personages representing Israel in the media.

"We thought of every detail," Vatikai said. "We even thought about how we would prevent Kuntar from making a 'V sign' (for victory) before the cameras while he remained on Israeli land." Meanwhile, Israel also launched a campaign negating the celebrations in honor of Kuntar in Lebanon, representing him as a hero. "We are transmitting one message: Samir Kuntar is a despicable child-murderer, whom they see as a hero," he said.

Attila Somfalvi contributed to this report