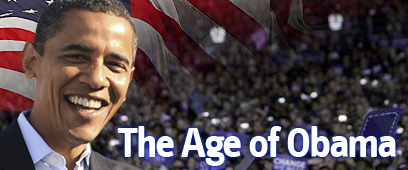 It wasn't about skin color, but rather, about the views. For the first time in history, a statesman who can be characterized as a European-style social-democrat will enter the White House. It never happened before and it wouldn't have happened now had it not been for the American financial crisis, which exposed the failure of unrestrained, merciless, rampant capitalism.

The broad and overwhelming objection to the collapsing "Wall Street system" enabled Obama to convey his message to the masses: Things will change. No more business as usual! I will lead the change. America under my leadership will forever part ways with the decayed financial system that brought us here, Obama told the young men and women who melted in the face of his gaze and quivered to the sound of his voice.

And what will replace the old system? Obama has remained economical in respect to the details of his presidential plans. However, his latest appearances conveyed great credibility because of the three figures standing by him: Former Treasury Secretaries Larry Summers and Bob Rubin, as well as former Fed Chairman Paul Volcker. The three aces.

Republican candidate John McCain not only lacked such dream team – during his election campaign he relied on the advice of dubious economists bordering on charlatanism. Only towards the end of the campaign he brought in some distinguished characters, such as the plumber from Ohio and the governor of California. But that was too late.

I do not view the election of a dark-skinned citizen as America's president as a historic revolution. Afro-Americans have already served in the most senior government position: Secretary of state. Had Colin Powell or Condoleezza Rice run for president and won, the change in America's political life would be minor; marginal even.

The great turnaround has to do with the unique blend featured by Obama: Not only is he a social-democrat, he is black too; not only is he black, he is young; not only is he young, he is a Muslim who became Christian; Not only is a Muslim-turned-Christian, he's pro-Zionist; not only is he pro-Zionist, he is black too; not only is he black, he's a social-democrat.

This multifaceted blend excited Americans to the point of losing all senses, including the natural sense of criticism and skepticism. Leading American intellectuals, ranging from columnists to physics professors, from authors to filmmakers, bowed down before Obama. And they were not the only ones. According to a poll by British weekly The Economist, citizens of the world would have granted Obama 80% support, at least, had they been able to vote in the elections.
Obama's courage
Obama became the darling of the media, of the Third World, of Europe, of young voters, of the street, and even of the Jews. Moreover, he matured and became much more serious during his campaign. In my view, he crossed the line from demagogical candidate to worthy candidate when he did not hesitate to back the treasury of secretary and the fed chairman – both members of an opposing party – and granted overwhelming support to their bailout plan.

While the Republican McCain was stammering, the Democratic Obama was quick to convene a press conference aired coast-to-coast and declare: When it comes to the economic plan, I back the Administration. If we need to bail out banks, we will. If we need to assist mortgage crisis victims, we will. If we need to increase the budget, we will.

It is easy for a US presidential candidate to speak out against the war in Iraq: Most Americans hate it. However, significant political courage is needed in order to back complex and very expensive economic moves, which are perceived by parts of public opinion as a matter of "bailing out the fat cats" or as "socialism in America." Obama proved that he possesses this kind of courage; that he is no populist.

Obama's victory opens an unfamiliar chapter in the history of the US; the social-democratic chapter. We shall see greater government involvement in the American economy, more federal funds earmarked to infrastructure and development, a more vigorous nationwide struggle against poverty, and higher taxes on the income of the wealthiest individuals. Moreover, we will see an Administration willing to manage financial institutions in practice during times of need and crisis.

Obama's election as US president will signal to the whole world that America is bidding rampant capitalism farewell and making a left turn, big time.