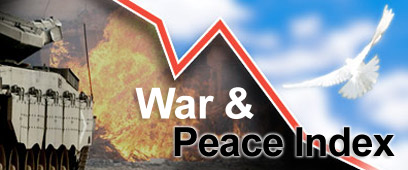 Civic duty (Illustration)
Photo: AFP
Could the historic result of the US presidential elections inspire the Israeli public to vote? According to the latest War and Peace Index, some 84% of Israelis eligible to vote in the next general elections, which are scheduled for February 10, intend on exercising their right to vote.
The War and Peace Index is conducted by the Tami Steinmetz Center for Peace Research. Published monthly since 1994, it is headed by Prof. Ephraim Yaar and Prof. Tamar Hermann and is compiled of a monthly telephone survey of 600 Israeli citizens representing the various sectors in Israeli society.
Election Time
Dahaf-Yedioth Ahronoth survey published Monday morning points to close race, as Livni takes the lead with 29 Knesset seats, Netanyahu follows with 26 seats. Labor plummets to 11 seats, while Shas may lose power
According to the data, 49% of Israelis say they will base their vote on the parties' ideology, 26% will base their choice on whoever heads the party, and 15% said the two factors were of equal importance.
A segmentation of the results revealed that 47% of the public views a party's stand on matters of security as pivotal; 23% see education and welfare issues as crucial and 13% see financial issues as such.
As for the differences between the parties on matters of defense, finance education and welfare, 59% of the participants said they so no real difference between the doctrines presented by Labor and Kadima; but 63.5% noted the differences between Labor and Likud on all pivotal issues, and 56% noted the difference between the stands presented by Kadima and those of the Likud.
As for Kadima Chairwoman Tzipi Livni's decision to refuse Shas' demands during the coalition talks – the decision which effectively let to the nearing general elections – 50% of Israelis agreed with the decision. Some 33% said Livni was wrong to refuse and 17% voiced no clear stand.
And what of the Israeli public's opinion on the outcome of the US presidential elections? Overall, 36% of Israelis preferred US president-elect Barack Obama to his Republican opponent, Senator John McCain; but the latter favored drastically (43% to 23%) when it came to a general belief of which of the two's administration would favor Israeli interest.