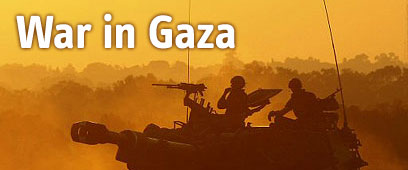 Hassa Nasrallah
Photo: Reuters
Hizbullah is prepared for any Israeli aggression, the organization's chief Sheikh Hassan Nasrallah said in a speech Wednesday.
High Alert
Syrian newspaper al-Watan reports Lebanese army, UNIFIL to increase patrols in southern Lebanon. UNIFIL officer in Lebanon reportedly speaks with PM Siniora, importuning him to call his army to be on highest possible alert out of concern that 'some might want to launch rockets into Israel'
"For several weeks now, even before the aggression (in Gaza) began, and also later, we have been hearing threats. One says they'll destroy us within days, others say that within hours… and I say: We are not afraid of your planes or your threats we and are ready for any scenario.
"If they come to our houses, our villages and our neighborhoods, the Zionists will find out that their war in July (the Second Lebanon War) was a walk in the park compared to what we have in store for them now."
During his address Nasrallah mocked Israeli calls for toppling Hamas: "I say to Olmert, the failed leader who was defeated in Lebanon – you can never beat Hamas and Hizbullah."
In recent days concerns have been mounting in Lebanon in light of the escalation in Gaza. UNIFIL and the Lebanese army have boosted their presence in southern Lebanon, and Hizbullah is said to have raised alertness among its ranks to the maximum.
Nasrallah also slammed Egyptian President Hosni Mubarak on Wednesday for refusing to open the Rafah border crossing. "Yesterday (Tuesday) a senior Egyptian official asked the Security Council if it needed to see more than 650 Palestinians killed and 2,500 injured in order to act responsibly.
"And I ask that same official – does the Egyptian government need more than that in order to open the Rafah crossing for the sake of Gaza's inhabitants and their firm resistance and triumph? All you are required to do is open the crossing, not to declare war," he added.