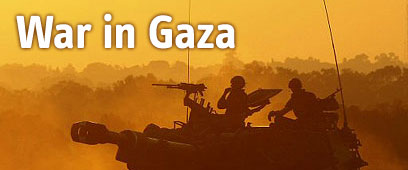 Previous rally in Sakhnin
Photo: Hagai Aharon
Tens of thousands of people gathered in the Arab-Israeli town of Baqa el-Gharbiya on Friday to protest against the IDF's offensive in Gaza.

UN Resolution Rejected

Despite UN resolution calling for immediate ceasefire in Gaza, cabinet says operation in Hamas-controlled territory will continue as planned: 'Israel has a right to defend its citizens, and the IDF will continue to operate in order to bring security to south Israel'

Jewish peace activists were also on hand for the demonstration, which was organized by the Higher Arab Monitoring Committee. Protestors waved black flags, as well as PLO flags and chanted "Mubarak, open the crossings" and "the people of Gaza are strong".

The rally was part of the Monitoring Committee's ongoing campaign against what it calls the "massacre in Gaza".

Knesset Member Ahmad Tibi (United Arab List-Ta'al) said during the demonstration that "the horrific images (from Gaza) of children's bodies are proof of the war crime that has been carried out. The tens of thousands of people here are calling for an end to the war crime in Gaza."

MK Jamal Zahalka, chairman of the National Democratic Assembly party, addressed the cabinet's decision to press on with the offensive in Gaza: "Despite the atrocities in Gaza and the death of hundreds of people there, (Prime Minister Ehud) Olmert is still willing to do anything to boost his status, which was severely diminished during the Second Lebanon War.

"Olmert's associates, (Defense Minister Ehud) Barak and (Foreign Minister Tzipi) Livni, want to buy votes with Palestinian blood. These crazies in the government must be restrained and an immediate ceasefire must be forced upon them. They have thrown morality and common sense into a deep hole," he said.

Samich Abu Moch, chairman of Baqa el-Gharbiya's Popular Committee, told the rally "we are one nation, a part of the Palestinian people; we feel their pain and support their struggle for independence. We are undeterred by the possibility of being arrested and will carry on with the protests."

Following the demonstration Abu Moch told Ynet, "We care about the children of Sderot just as much as we care about the children of Gaza. It is time to talk to Hamas. Fatah used to be like Hamas, and now it has become the Palestinian Authority. Just as Gazans have the right to live in peace, so do the Jewish communities in south Israel.

"The only way is to negotiate with Hamas and make peace," he added, "we cannot go in living in a state of war forever."