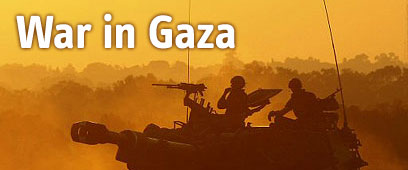 Kouchner and Livni
Photo: Reuters
Palestinians in Gaza
Photo: AFP
The French foreign minister said Monday that European military observers should be sent to Gaza to monitor any eventual ceasefire between Israel and Hamas.
"There need to be European observers," Bernard Kouchner said on Europe-1 radio, adding that the group could be expanded to include monitors from other regions. He said they should include military observers, "to testify to the maintained ceasefire."
War in South
Diplomatic efforts to end Gaza conflict intensify as Defense Ministry official says Cairo-brokered talks have undergone pivotal conceptual change; Egypt now fathoms dangers of Hamas. Palestinian sources warn of premature optimism
Israel has said any truce should be accompanied by international supervision, and Germany's foreign minister suggested Sunday night that Egypt and Israel were favorable to having international experts deployed at the Gaza-Egyptian frontier to stop arms smuggling.
Kouchner, however, said Monday that "neither the Egyptians nor the Israelis want international observers on their territory for the moment."
France has played an active diplomatic role in the push for peace in Gaza, including as current president of the UN Security Council and during a trip by President Nicolas Sarkozy and Kouchner to several cities in the Middle East last week.
French Defense Minister Herve Morin suggested a European peacekeeping force for Gaza once the violence has settled.
"It seems to me it would not be stupid or incoherent for the Europeans to participate in a force that would be tasked with watching over the security of the borders," he said on French radio RFI on Sunday night.
He said France should consider participating in such a force if one is formed, but added that for now "the conditions have not been met" to establish such a force.
Kouchner also said France is talking with Iran in a bid to indirectly pressure Hamas, viewed as a terrorist group by the US and EU, into halting its rocket attacks on Israel.
"We are talking to everyone," Kouchner said. He said he talked to Iranian officials Sunday about Gaza.
"We have intermediaries ... who allow us to talk to Hamas," he said, without elaborating.
Amid the diplomatic efforts, Israel ground forces were continuing their offensive in Gaza that began December 27 to halt years of rocket fire from Hamas militants. The two-week-old conflict has killed more than 800 people.
Tensions over Gaza have spilled over in France, home to Western Europe's largest Jewish and Muslim populations.
Two firebombs were hurled at a synagogue in the northern Paris suburb of Saint-Denis on Sunday, damaging a Jewish restaurant next to the building, according to regional police.
The reason for the attack was not clear, though it comes after a string of anti-Semitic incidents in France in recent weeks that authorities have linked to the Gaza violence.