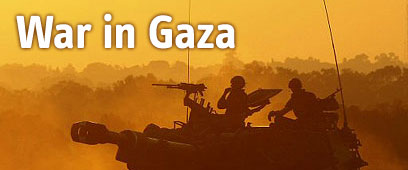 'Too many have died.' Ban
Photo: AFP
UN chief Ban Ki-moon on Monday demanded that Israel and the Islamist Palestinian movement Hamas immediately stop the fighting in the Gaza Strip, saying "too many people have died."
Fact-Finding Mission
UN Human Rights Council adopts resolution harshly condemning Israel for 'grave' human rights violations against Palestinians; to send fact-finding mission to Strip
In his first press conference of the year, a day before he is due to leave on a week-long Middle East tour to press for a Gaza truce, Ban said: "The fighting must stop ... To both sides, I say: just stop now. Too many people have died.
"My goal is to step up the pace of our joint diplomatic efforts and ensure that humanitarian assistance reaches those in need," the UN chief told reporters.
The UN Secretary General insisted that the call by the UN Security Council last week for an immediate Gaza ceasefire, which both Israel and Hamas have ignored, must be observed.
"We have a Security Council resolution demanding an immediate and enduring ceasefire. This resolution must be observed."
Egypt has been trying to broker a ceasefire between Gaza's ruling Islamist Hamas group and Israel, which responded to Hamas rocket attacks by launching an offensive on the Palestinian territory on December 27 that has killed more than 900 people.
Ban was due in Cairo on Wednesday for talks with Egyptian President Hosni Mubarak, Foreign Minister Ahmed Abul Gheit and Arab League chief Amr Mussa.
The UN boss was to leave Tuesday for a Middle East tour that will take him to Israel, the West Bank city of Ramallah, Jordan, Turkey, Syria, Lebanon and Kuwait, where he was to attend an Arab League summit next Monday.