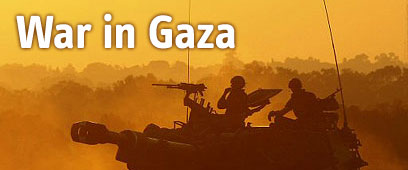 Egypt's Mubarak with French President Sarkozy
Photo: AFP

IDF soldiers in Gaza
Photo: AP
Egypt has been exerting fierce pressure on Hamas over the past 24 hours to accept its ceasefire proposal, Palestinian sources told Ynet Sunday night.

According to the sources, Cairo warned Hamas that should it refuse to accept the proposal the IDF would continue to expand its operation in Gaza, which in effect would mean an end to Hamas' rule over the coastal enclave it took over in June 2007.

Islamist Group

In televised speech from his Gaza hideout, Haniyeh says Islamist group will back any initiative that will result in 'enemy's withdrawal', but adds Palestinians will 'continue to fight occupying forces until victory achieved with Allah's help'

A Hamas delegation is currently in Cairo for the ceasefire talks, but it may return to the Strip on Monday. The Egyptian pressure stems from Israel's preparations for the third phase of Operation Cast Lead, which Cairo said will be launched in the coming days and will conclude only after Israeli forces enter Gaza City.

Hamas Prime Minister Ismail Haniyeh said in a televised speech delivered from his hideout in Gaza on Monday that the Islamist group would "cooperate with any initiatives aimed at ending the (Israeli offensive) and bring about the enemy's withdrawal and the reopening of the crossings."

Despite Haniyeh's statement, currently there is no sign of a breakthrough in the negotiations.

One of the Palestinian sources said he fears Hamas will accept the Egyptian-brokered agreement only after the IDF operation "claims the lives of hundreds and maybe thousands more."

The sources said Palestinian President Mahmoud Abbas was also working in a number of arenas in order to pressure Hamas into accepting a ceasefire. "The president wants an immediate end to the IDF operation, even if its continuation means the collapse of Hamas' regime in Gaza," one source said.
Gaza-Damascus rift reports denied
Since Hamas stressed that it would not agree to the deployment of armed international forces in Gaza, Egypt is exploring the option of deploying Arab forces backed by European supervisors there. Among other things, these forces will be tasked with preventing the smuggling of arms into Gaza along the Philadelphi Route.

Meanwhile, Muhammad Nazal, a member of Hamas' political bureau, denied reports of a rift among the group's leaders in Gaza and Damascus and disregarded the reports as "Israeli psychological warfare."

However, he did say that "it is only natural that there are disagreements between people."

In an interview with al-Jazeera, Nazal said "the delegation that met with senior Egyptian officials was comprised of senior Hamas figures from Gaza and Damascus, indicating that the group is unified in its stance."

Roee Nahmias contributed to the report