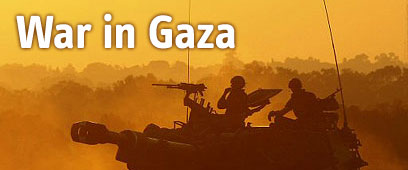 Soldiers wave Israeli flag in Gaza
Photo: Reuters
IDF strikes 60 targets in Gaza; 6 troops injured
Israeli forces hit several armed terrorist cells, attack 35 arms smuggling tunnels, warehouses used for manufacturing and storage of weapons. Three officers, three soldiers, including regiment commander, lightly to moderately hurt in exchanges of fire with terrorists
Operation Cast Lead enters its 19th day: The Israel Defense Forces attacked about 60 different targets in the Gaza Strip on Tuesday night, including Hamas' police headquarters, several terrorist cells and arms smuggling tunnels.

Three officers and three soldiers were lightly to moderately injured in exchanges of fire with Palestinian terrorists. Two of the officers sustained moderate wounds, and the rest were lightly hurt, including a regiment commander.

Facing Ruling?

UN General Assembly to consider requesting advisory opinion from the International Court of Justice on Israel's actions in Strip, The Guardian reported. 'There could be an ad-hoc tribunal established to hear allegations of war crimes,' says UN's special human rights investigator

The main incident took place during a paratroopers' force patrol in the northern Strip. The force arrived at a building and was fired on from small-arms. In addition, several grenades were hurled at the soldiers.

The force fired back at the gunmen. Lieutenant-Colonel Avi Blot, commander of the 101st Regiment, was lightly injured by shrapnel. Two other officers were moderately injured, and two soldiers sustained light wounds. Another soldier was lightly injured by shrapnel in a separate incident.

At least two terrorists were killed in the exchanges of fire, and 10 gunmen were hit altogether during the nigh operation. The injured troops were evacuated to Israeli hospital for treatment.

Lt.-Col. Blot was the second regiment commander to be injured during Operation Cast Lead, after Lt.-Col. Oren Cohen, commander of the Golani Brigade's 13th Regiment was injured last week when a tank shell was accidentally fired at an Israeli force.
Municipality building attacked
The IDF Spokesperson's Unit reported that the forces struck nine warehouses used for the manufacturing and storage of weapons, some of them located in the homes of Hamas activists.

A gunmen cell spotted near one of the forces was hit, and in another incident the forces attacked a mortar shell launching cell in the Sajaiyeh neighborhood. Thirty-five tunnels used to smuggle weapons were also struck.

Palestinian sources in the Strip reported Tuesday night that Israel Air Force jets attacked Gaza City's old municipality building, which has been used in recent years as a courthouse. Eyewitnesses reported that the building was destroyed and that many stores in the area sustained damage.

The Health Ministry in Gaza reported that the Palestinian death toll from the IDF operation has reached 971.

Senior state officials said Tuesday evening that despite the reports on advanced talks being held in Egypt on a ceasefire, there was no pressure to halt the operation.

"Prime Minister Ehud Olmert has made it clear that he has no defined timeframe for a ceasefire," said a senior official. "Nobody should stand there with a stop watch or try to put a gun to our head."

"We don't want to see another Resolution 1701 like we did in Lebanon," he said after a day of discussions at the Prime Minister's Office. "We don't want to find ourselves tomorrow, in two days, or in five or 10 years facing a terror organization armed with missiles that cover the whole of Israel. A unilateral withdrawal on our part at this time won't guarantee that this won't happen.

"We are seeking guarantees, assurances, and for things to be clear," the official said. "The prime minister defined two objectives – an end to Hamas fire and terror, and an end to the organization's military build-up."