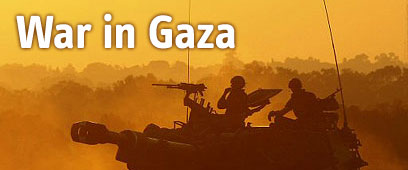 Aboul Gheit. Agreement reached?
Photo: AP

Hamas' political leader Khaled Mashaal
Photo: AFP
Hamas has agreed to a ceasefire in Gaza based on Egypt's proposal, Arab sources told Ynet Wednesday. The conditions for the truce have not been published at this time.
Threat
Palestinian sources say Cairo exerting fierce pressure on Hamas movement to accept ceasefire proposal. Egypt warns Islamist group IDF operation will end only after forces enter Gaza City
Senior Hamas official Ayman Taha is expected to hold a press conference at 7:30 pm (GMT) in which he will present the understandings reached during the Cairo talks.
According to Palestinian sources Hamas will likely present several reservations from the proposal's outline but is expected to accept its principal clauses.
According to television network al-Arabiya, Egypt and Hamas reached an in-principle understanding regarding the stationing of international forces at the border crossings.
However, a Hamas leader said on Wednesday that points of difference remained over the Egyptian proposal.
"There are still points of difference on the initiative," Osama Hamdan, the Hamas representative in Lebanon, said in an interview broadcast on Al Jazeera television.
Meanwhile, the website of Spanish newspaper El Pais quoted Spanish Foreign Minister Miguel Angel Moratinos as saying that Hamas has accepted the ceasefire plan.
The report said Israel would respond to the proposal on Thursday.
Positive progress
Earlier in the day Egyptian news agency MENA reported that the Islamic group has responded favorably to Egypt's efforts to promote a ceasefire in Gaza, .
"Hamas responded positively to Egypt's attempts to bring an end to the shedding of Palestinian blood, during the talks that were held in Cairo in the last three days," an Egyptian official told MENA.
Egypt's Foreign Minister Ahmed Aboul Gheit, whose nation has been instrumental in ceasefire talks, said he had received Hamas' latest proposal and would convey it to the Israelis. Without revealing details, he indicated an agreement was near and a Hamas spokesman said the militant group had "no other choice."
Israeli official Amos Gilad is scheduled to arrive in Cairo Thursday for talks with Egypt's Intelligence chief Omar Suleiman.
Senior officials from Hamas' political bureau returned to Damascus Wednesday after meeting with Suleiman. Three representatives from Hamas in Gaza also took part in the negotiations.
Deputy Chairman of Hamas Political Bureau Moussa Abu Marzouk told the al-Arabiya television network earlier Wednesday that the IDF must hold its fire before it pulls out from the Strip.
"Israel did not abide by any of the previous truce's conditions, and therefore there must be a short and pre-defined period between each stage, that would allow us to evaluate the situation and agree to move on to the next stage," he explained.
Roee Nahmias and AP contributed to the report