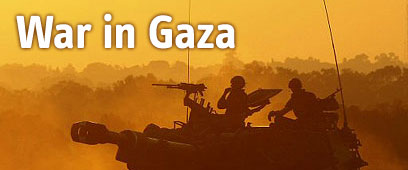 Amos Oz, just like other prominent writers such as David Grossman, A.B. Yehoshua, and Meir Shalev use their special status in order to instruct the people of Israel on the appropriate conduct in respect to the Arab-Israeli conflict. For many years they have been preaching to us about the need for peace, the Arabs' desire for peace, the viability of peace treaties with the Palestinians, the injustices of occupation, and the inability to secure a military victory.

Yet even a cursory examination of these statements vis-à-vis the bleeding reality that is our life shows that these great writers imagine reality instead of seeing it as it is. In the 15 years that have passed since the Oslo Accords, Israel's citizens have become the guinea pigs of these peace prophets, and in this lab, the dead guinea pigs – that is, the killed and wounded citizens – proved the lie found at the base of this delusional peace statement.

These writers' ability to ignore reality as they see fit was recently manifested in Yoram Kaniuk's article, where he claimed that no state can defeat radical Islam. He of course turned a blind eye to America's victory in Iraq following years of difficult war, as well as Israel's complete victory over terrorists in Judea and Samaria in the wake of Operation Defensive Shield.

We tend to view authors and poets as people of morality and conscience whose statements carry greater moral significance and weight than the declarations of a layman. Yet it appears this tendency is not backed by much. These authors were indeed gifted with the kind of writing ability that penetrates deep into a person's soul, yet this ability does not serve as a basis for unusual moral qualities. In this respect, the views of a great writer on issues of conscience and values, and certainly on matters of security and diplomacy, are no more important than the views of anyone else, be they an engineer, plumber, or shoemaker.

At times we can point to a writer or poet who is at the zenith of human eminence when it comes to moral conduct, yet other times we see writers deep within the realm of injustice and evil – just like we see this among humanity as a whole.
Gaza war a moral act
The complete blindness of these men of letters and of their colleagues vis-à-vis disappointing political realities, and their puzzling stubbornness not to change their mind in fact taints their moral standing. As masters of words, they are capable of undertaking any kind of intellectual acrobatics in order to almost always object to any just war embarked on by their countrymen. They are the first ones to carry the name of peace in vain via their desire to end our war against our enemies, even at the price of current or future damage to their own people.

The war against the Hamas movement and its many supporters in the Gaza Strip is a highly moral and just act undertaken by the State of Israel. Hamas is the spearhead of zealot and murderous global Islam, and therefore the State of Israel is today on the side of the sons of light, who are saving the world from the sons of darkness. The writers and poets who call for an end to the Gaza war are regrettably supporting Hamas, which at this time begs for a ceasefire in order to avoid defeat.

Only two days after the launch of the Gaza operation, the two great priests of the Order of Peace, Oz and Yehoshua, rushed to call for a ceasefire via the Italian press. This absurd state of affairs whereby well-known Israelis preach to their own government, in the foreign media, on the proper conduct during war is unique to the Israeli peace club. It was no coincidence that the writers published their call for a truce outside the borders of their own country.

Sadly, their clean and anti-war image vis-à-vis their European friends is more important to them than the natural and simple solidarity of their countrymen, who are fighting the most justified war possible.