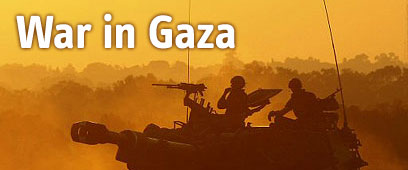 Dr. Abu al-Aish, 'They ruined my hopes'
Photo: Reuters
The day before Israel declared a unilateral ceasefire in the Gaza Strip, the home of Dr. Ezzeldeen Abu al-Aish was shelled. Three of his daughters and his niece were killed in the incident, and other injured family members were transferred for treatment in Israel.

This is just one of many incidents in which civilians in Gaza were killed by IDF fire during Operation Cast Lead, and was brought to the Israeli public's attention due to the fact that the doctor works in Israel and is in constant contact with reporters.

War in South

Relatives were convinced Amira Kurim had died in same round of IDF shelling that killed her father, sister and brother, but she was found lying on mattress soaked with blood in Gaza City flat

The decision to ban journalists from entering Gaza leaves the rest of the victims' stories among the ruins.

"There is no doubt that there are plenty of tragic stories that we will only hear about at the end of the war," said Foreign Press Association Secretary Glenys Sugarman.

"We were all shocked by this story, because it illustrates exactly what is going on over there. We are fighting for the urgent need to allow foreign journalists into Gaza – its vital for independent reporting, not Israeli, and not Palestinian," he continued.

"We all hurt over the stories on both sides, and professionals should be allowed into the battlefield," Sugarman stressed, unimpressed by the reporters the IDF Spokesperson's Unit let in.

"You can't just send journalists to join the military forces who show them around. That is not independent and open reporting. In the modern, open world, when there are people that see and are willing to comprehend what's going on here – this is an important message.

"A layman as well as a leader should look at these things and decide for himself what he thinks about the war."
Injured evacuated to Israel
After the incident was revealed on Channel 10, the Coordination and Liaison Authority at the Erez crossing decided to have the injured evacuated to Israel for treatment. A Palestinian ambulance brought them to Erez crossing, where they were then transferred to an Israeli ambulance.

The army said sniper fire was fired at soldiers from Abu al-Aish's house, and the forces responded with shells. The doctor lost his daughters Bisan (20), a business administration student, Miyar (15), and Aya (13).

His 18-year-old daughter Shada was injured in the attack, and was hospitalized in moderate condition. The doctor's niece was also killed, and her father was lightly injured.

Those wounded in the incident were transferred to Chaim Sheba Medical Center at Tel Hashomer and Barzilai Medical Center in Ashkelon.

Abu al-Aish is a fertility expert who has been working at the Sheba Medical Center for the past few years and researching the treatment of Palestinian and Israeli children at the Gertner Institute. He also worked at the Soroka Medical Center for many years. His wife died of leukemia several months ago.

Saturday afternoon Abu al-Aish called a press conference in the hospital, and said, "My children were involved in peace activities. They participated in peace camps everywhere.

"Were they armed when they were killed? They were not armed with weapons, but rather, with love; love for others. They planned to travel to Canada; I got a job in Canada and they wanted to come with me. Why did they ruin my hopes? My children?"

During his speech, the doctor was interrupted by an Israeli mother of three soldiers who burst out in rage at the media, saying, "What's wrong with you, have you all gone crazy?...Why is he engaging in propaganda?"