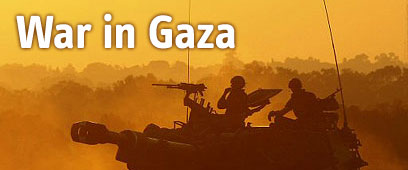 Destruction in Gaza
Photo: AFP

House in which Hamas minister Said Siam was killed
Photo: AP
With the Israeli ceasefire in effect, the dimensions of the death and devastation in Gaza are becoming more apparent. At least 95 bodies were found Sunday morning in different areas of the Gaza Strip, including the bodies of 17 members of the same family.

Dozens of dead were found in the al-Atatra neighborhood in Beit Lahiya, and some of them were identified as Islamic Jihad military wing gunmen.

War in South

Following publication of Gaza doctor's tragic lose of three daughters, niece in IDF shelling, FPA secretary stresses urgent need for journalists in Strip 'for independent, open reporting'

Palestinian sources reported the bodies were retrieved from the ruins of houses they were unable to reach up until now due to the fighting. Among the dead, reports said, were those of families that had been killed in Israeli shells.

Sunday's discovery brings the Palestinian death toll since the start of Operation Cast Lead to 1,300 people, with over 5,400 people injured.

Palestinians said they hoped rescue teams would be allowed into areas where the IDF is stationed in order to search for more bodies. The IDF and the International Red Cross are coordinating the search efforts.

"Every second the death toll rises," said Adnan Abu-Hasna, UNRWA spokesman in Gaza. "We assume there are people under the ground, buried under the rubble. We will try to get to places that were impossible to reach during the fighting.

"Our job focuses on humanitarian aid to all areas in Gaza. Some 50,000 people have found refuge in our schools. Some of them returned to their homes and found them in ruins and came back to the school."



Ruins in Gaza (Photo: Reuters)

According to Abu-Hasna, most of the families that fled their homes are now searching for missing people, their family members and loved ones.

"People in Gaza hope its over now," he said, "While you still don't see much movement in the streets, there is hope that now they can start to rebuild their lives."

Sources in the Strip have now begun attempting to estimate the damage caused in areas where the IDF operated. According to reports, hundreds of buildings were demolished, and some 15% of all the buildings in the Strip collapsed or were completely destroyed.

News agencies said residents have begun loading their belongings on cars and donkeys and heading off back to their abandoned homes. Bulldozers have cleared the rubble in central Gaza to make way for vehicles, and medical rescue teams are combing through the ruins in search of bodies.

The Shehadeh family was among those making their way back to their house in Beit Lahiya. "They told me that the devil has left," said Riyad, one of the family members.

"I am returning home to see how I can start everything all over again. I have no idea what has happened to my house. I am going back with a heart full of fear because I'm not sure if the area is safe or not. But I don't have a choice."

In Rafah in the southern Strip, Abdel Ibn Taha said, "We are very, very happy with this peace, we are completely warn out."

Roi Mandel contributed to this report