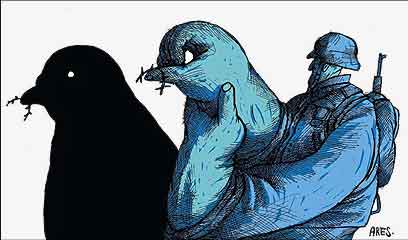 Caricatures in conflict
Drawing: Aristides Hernandez
The Parents Circle - Families Forum, which includes parents and relatives of Israeli and Palestinian victims of violence, has put forward a cartoon exhibition promoting peace and reconciliation.
Participating in the exhibition are leading artists from around the world and it is scheduled to open on September 12 in the Israeli Cartoon Museum in Holon. The exhibition will then move to the United States and European capitals.
Participants include leading cartoonists Patrick Oliphant, Jeff Danziger, Liza Donnelly and Jim Morin as well as Palestinian cartoonist Baha Bukhari from Ramallah.
Cartoon by David Bromley displayed at the exhibition

The display is being curated by Michel Kichka, chairman of Israel's Cartoonists Association. Kichka said," The Parents Circle has taken upon itself a challenging and difficult task. Peace, reconciliation and tolerance are goals that seem unattainable in the morning, closer than ever in the afternoon and far off in the evening.

"This is a challenge since the grief-stricken Parents Circle has turned to a naturally extreme form of art in order to tackle a very delicate and complex issue," Kichka explained.



Work by Andrzej Krauze displayed at the exhibition

He also added that cartoons by nature are poignant and at times blunt, humorous and painful.

Instead of providing a catalogue, the exhibition's organizers decided to display the cartoons on a calendar marking Muslim, Jewish, Druze and Christian religious holidays. It will be put up for sale at the exhibition's opening and all proceeds will be donated to the Parents Forum.

Over 500 families are members of the Parents Forum, with an equal number of Palestinians and Israelis. The forum offers a different approach using personal meetings and sharing personal stories with the joint aim of putting an end to violence, hatred and lack of trust.