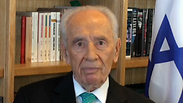 President Shimon Peres has collapsed during an event at the Yitzhak Rabin Center in northern Tel Aviv Saturday evening.
Peres is in excellent condition, Sheba Medical Center Director Ze'ev Rothstein said about an hour after the incident.
"President Shimon Peres is already at the hospital…and will undergo a series of tests," he said. "His overall condition is excellent but I estimate he'll spend the night here."
Peres was standing up and replying to questions by the audience at a Rabin Center function when he collapsed. The president's personal paramedic on behalf of the national bodyguard unit was present at the scene and administered initial treatment.
According to initial reports, Peres was able to recover and stood up within several minutes. He is said to have left the stage on his feet and was talking to those around him. Magen David Adom ambulance teams rushed to the scene and treated Peres at Dalia Rabin's room at the site.
Ambulance arrives at Rabin Center (Photo: Yaron Brener)
The president's close associates said that he fainted because of a drop in his blood pressure. The sources said that after regaining consciousness, the president yelled at medical teams and his aides, telling them "I want to return to the Presidential Residence, I'm fine."
The president was at the Rabin Center for an event by the Young Presidents Organization (YPO,) which comprises many young business executives.
'He's doing well'
The president's personal physician, Dr. Rafi Valdan, also made his way to the site after getting word of the incident. Peres was reportedly insisting that he did not wish to be taken to hospital, but his aides were pressing him to head to the Sheba Medical Center in order to undergo tests. Paramedics at the scene also urged the president to agree to a hospital checkup.
Dr. Valdan later told Ynet that Peres was doing well.
"He feels well and the incident is over," he said. "Just to be on the safe side, we are transferring him to Sheba Medical Center for the night. I estimate that he'll be able to return to work Sunday morning."
Addressing the circumstances of the collapse, Valdan said: "It was simply very hot and he stood up for a long time and felt dizzy. He fainted for a few seconds. At this time he feels fine, he's smiling, and he's on the phone with the whole world."
The 86-year-old Peres is Israel's ninth president. Despite his advanced age he maintains a busy schedule and takes part in numerous meetings and events every week.
Roni sofer, Attila Somfalvi, Ronen Medzini, Meital Yasur Beit-Or and Avi Cohen contributed to the report