Haniyeh: US shedding Muslim blood
Photo: AFP

Hamas on Monday condemned the killing by US forces of Osama bin Laden and mourned him as an "Arab holy warrior" while Iran condemned "Zionist terror" and a US national security official told Reuters the mission of the special forces team that hunted down the terrorist had been to kill him.

.

"This was a kill operation," the official said, making clear there was no desire to try to capture bin Laden alive in Pakistan.

Other Side

Hundreds flock to Ground Zero after Obama declares terrorist dead. 'Great day to be American,' says one

Ismail Haniyeh, head of the Hamas administration in the Gaza Strip, told reporters that the group regards bin Laden's death "as a continuation of the American policy based on oppression and the shedding of Muslim and Arab blood."

Though he noted doctrinal differences between bin Laden's al Qaeda and Hamas, Haniyeh said: "We condemn the assassination and the killing of an Arab holy warrior. We ask God to offer him mercy with the true believers and the martyrs."

Iran responded to the killing by saying that the US and its allies had now "lost the excuse to continue their presence in the region with the aim of fighting terror".

In a statement Iranian Foreign Ministry Spokesman Ramin Mehmanparast said, "This incident proves that there is no need for a huge war in order to deal with one person." He said Iran, which sees itself as a victim of terror, "condemns all acts of terrorism in the world, including the organized terror of the Zionist regime".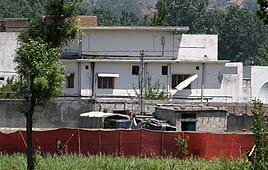 Meanwhile the Pakistani Taliban threatened attacks against government leaders, including President Asif Ali Zardari, the Pakistan army and the United States.

"Now Pakistani rulers, President Zardari and the army will be our first targets. America will be our second target," Ehsanullah Ehsan, a spokesman for Tehrik-e-Taliban Pakistan (TTP), or Taliban Movement of Pakistan, told Reuters by telephone from an undisclosed location.
'Saudi Arabia refused to bury bin Laden'
US officials said Monday that bin Laden's country of birth, Saudi Arabia, had refused to accept the body of the arch-terrorist for burial so the country was forced to bury him at sea, CBS reported.

Earlier sources in Washington reported that bin Laden's body had been transferred to Afghanistan and then buried at sea for fear that Islamist extremists would turn any gravesite into a holy place.

The Saudi Press Agency carried an official statement Monday expressing hope that bin Laden's death with be a "step that supports the international efforts against terrorism."

It added that the Saudi people in particular were targeted by "this terrorist organization," referring to bin Laden's al-Qaeda, which once had an active branch in the desert kingdom. Saudi Arabia revoked his citizenship in 1994.
'No connection between Islam, violence'
Issam al-Aryan of Egypt's Muslim Brotherhood responded to bin Laden's death by calling on the US to withdraw from Afghanistan and Iraq. "With bin Laden's death one of the main reasons for violence in the world is gone," he said.

"It's time for Obama to withdraw from Afghanistan and Iraq and terminate the occupation of the US and Western forces throughout the world, which harms Muslim states deeply."

Al-Aryan added that "the uprisings in the Middle East are proof that democracy has its place in the region and it does not require foreign occupation". He also predicted that various terror groups would retaliate for the killing.

"It's time the world understood that there is no connection between violence and Islam," al-Aryan said. "Any connection between them is false and based on the media."

Meanwhile, in Libya, rebels called for leader Muammar Gaddafi to face the same fate as the al-Qaeda leader. "We are very happy and we are waiting for the next step. We want the Americans to do the same to Gaddafi," said rebel military spokesman Colonel Ahmed Bani.

"We know Osama bin Laden is fighting against us, he is our enemy also," he said, adding that Libyan rebels had evidence al-Qaeda sympathizers had been fighting against them.

Roee Nahmias contributed to this report