Whitney Houston
Photo: EPA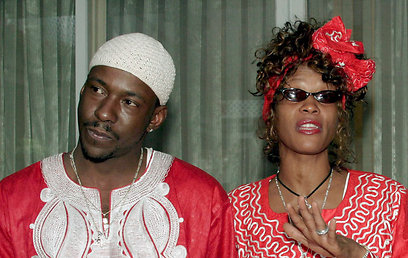 Houston with husband Bobby Brown during Israel visit
Photo: EPA
Israel's Black Hebrew community is mourning the loss of Whitney Houston, who famously visited them in 2003.
Ben Ammi Ben-Israel, the leader of the 2,500-strong group, told Channel 2 TV Sunday that he considered Houston his "spiritual daughter."
Early Demise
Grammys Award winning singer, actress found dead at Beverly Hilton Hotel. Police say 'no obvious signs of any criminal intent'
In 2003, she visited the Black Hebrews in the desert town of Dimona. The group moved to the Holy Land from the US decades ago. They believe they're descendants of a lost tribe of Israelites.
Houston was found dead Saturday in a Los Angeles hotel room. She had struggled for years with drug and alcohol abuse. The cause of death was unknown, Houston's publicist, Kristen Foster, said.
Ben-Israel – a former Chicago bus driver – said Houston was a source of pride for his community. He said he recently invited her back to Israel "to help her overcome her problem."
Houston's death came on the night before music's biggest showcase, the Grammys. Houston had been at rehearsals for the show Thursday, coaching singers Brandy and Monica, according to a person who was at the event but was not authorized to speak publicly about it. The person said Houston looked disheveled, was sweating profusely, and liquor and cigarettes could be smelled on her breath.
At her peak, Houston was the golden girl of the music industry. From the mid-1980s to the late 1990s, she was one of the world's best-selling artists. She wowed audiences with effortless, powerful and peerless vocals rooted in the black church but made palatable to the masses with a pop sheen.