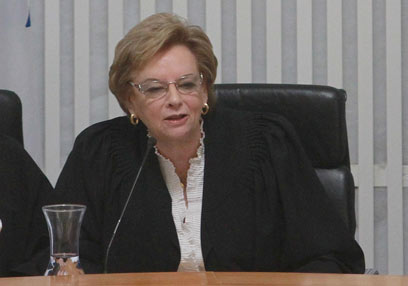 Dorit Beinisch
Photo: Gil Yohanan
Speaking at farewell ceremony held in her honor on Tuesday, retiring Supreme Court President Dorit Beinisch said, "As a judge in the Supreme Court I believed that the most important thing was to maintain the independence of the court, its freedom and ability to implement the democratic values."
Related articles:
"The guideline I and my colleagues followed was that policy was not dictated by the State Prosecution. There are always red lines which we must not cross but we cannot waive the principles that we base our work on," she added.
In her final judgment before retiring, Beinisch (70) and the High Court of Justice overturned two articles of the Income Support Law, which prevent people who own a car from receiving income support.
Farewell ceremony at Supreme Court (Photo: Gil Yohanan)
Beinisch will be replaced by Justice Asher Grunis, who was scheduled to be sworn in later in the day.
"This ceremony is not easy for me. I am bidding farewell to the Supreme Court, which has been my home for the past 15 years. The court is not just another workplace, and being a judge is not just another profession," Beinisch said with tears in her eyes. "The law is part of every judge's life and personality."
Addressing the changes within Israeli society, the retiring judge said "alongside very important achievements, we must deal with the growing plight that is spreading among the various (social) classes. Unfortunately, the phenomenon of disrespect for human life can be detected within Israeli society. There is a lot of violence. We mustn't ignore the fact that a fifth of Israel's citizens are Arabs – who have yet to realize their rights.
"The court will have to adjust itself to a changing reality. However, not everything is in the hands of the Supreme Court – additional institutions must (join forces) to solve the problems," she added.
During the ceremony in Jerusalem, which was attended by a host of leading judicial officials, including former Supreme Court presidents Aharon Barak and Meir Shamgar, former Supreme Court Judge Yitzhak Zamir said that during her term Beinisch succeeded in fending off attacks on the court and "safeguard the court's status and authority."
Attorney General Yehuda Weinstein lauded Beinisch's "courage," saying that "human dignity" was her "Lodestar."
Beinisch's rulings "were not issued from an ivory tower," the AG added. "She is deeply connected to Israeli society. This connection stems mainly from her love for this country."
Incoming Supreme Court president Grunis said that "the president (Beinisch) has a wonderful combination of extensive legal knowledge and in-depth awareness of the realities, a winning combination of according a great deal of weight to human rights together with a recognition of the general public's interests and the security demands," he stressed.
According to Grunis, "her term in office was not an easy one. The president defended the judicial authority with assertiveness, and fearless resolve."
Speaking to Ynet a senior official within the judicial system summed up Beinisch's term in office: "It is the end of the Beinisch era, which was one of the most tumultuous in the history of the legal system."
Sources believe there is no doubt that Grunis will bring some stability to the legal system: "President Grunis is completely different in his character and approach to that of Beinisch and her predecessor Professor Barak."
Receive Ynetnews updates directly to your desktop