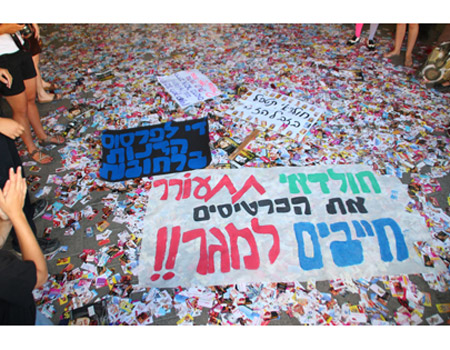 Residents are fed up with the thousands of prostitution cards scattered on city sidewalks
Ron Beeri

TA Mayor Ron Huldai
Photo: Yael Tzur
They're a common sight on sidewalks, in parks, and of course on car windshields. But Tel Aviv residents are starting to wake up and say – enough. Some 100 Tel Avivians demonstrated Tuesday evening at the municipality in protest over the massive dissemination of cards advertising prostitution.
During the demonstration, participants threw thousands of the cards they had collected over the past month at the municipality building, urging Mayor Ron Huldai to root out the cause of the problem.
Related stories:
"These cards are everywhere and they encourage prostitution. There is a law that forbids advertising prostitution and we want to wake the city and its leader up," said Reut Gai, 34.
Ami Sofer, 28, one of the organizers, said that he lives in central Tel Aviv and finds numerous cards daily. "The content bothered me, and they distribute them near schools. There are countries like Thailand where the sex trade is rampant, but Tel Aviv isn't like that. Is this the face Tel Aviv should be showing tourists?"
The Tel Aviv Municipality said in response that "promoting sexual services is against the law, which the police are responsible for enforcing. Local authorities don't have the legal authority to act on the matter."
"The city regular issues fines for putting up posters (that aren't on cars) and when inspectors catch the people who disseminate the cards, they are fined thousands of shekels," the city continued.
Dozens took part in protest (Photo: Ron Be'eri)
In addition, the municipality said that it had "no legal ability to take action against the people who print the cards scattered on the street. The distributors are just messengers who are replaced frequently. The city has appealed and continues to appeal to the police, asking that it investigate and find the people responsible for the cards and take action against them."
The Tel Aviv Police said that they were "dealing with the matter."
Protest outside Tel Aviv Municipality building (Photo: Ron Be'eri)
"The police are investigating the issue, only recently we conducted an extensive investigation during which we confiscated 15,000 copies of a newspaper that promoted sexual services. Dozens of suspects were questioned. Internet sites advertising prostitution have also been shut down, and we've found thousands of these cards and questioned the people who distributed them."
"The police will continue to address the issue of prostitution, just as it has done," the police said in conclusion.